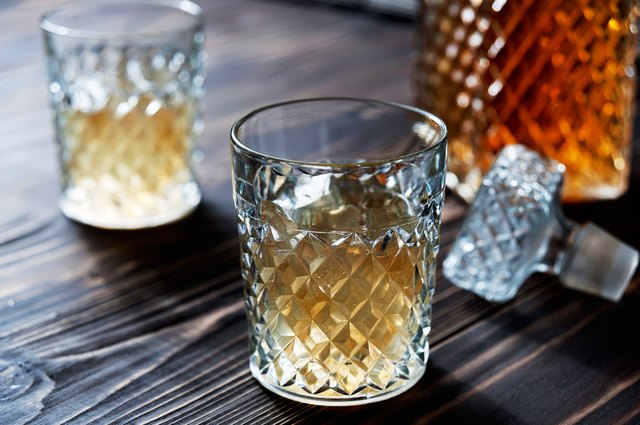 Triple sec, a French liqueur invented in the 19th century, has become a somewhat generic term for any orange-flavored liqueur. Both the Grand Marnier and Cointreau brands of orange liqueur are types of triple sec, but their taste and composition distinguish them from one another and other brands.
Triple Sec
The 19th century Frenchman Jean-Baptiste Combier invented triple sec when he steeped the sun-dried skins of Haitian oranges in neutral spirits then distilled the liquid in copper pots. Triple sec, meaning "triple distilled" in English, usually contains about 23 percent alcohol and has a mildly sweet orange flavor. The liqueurs range from clear to golden. Higher quality triple sec typically uses aged cognac or brandy as the base, while lower quality triple sec may use low-proof grain alcohol.
Grand Marnier
Grand Marnier, a cognac-based liqueur flavored with the aromatic bitter orange, was introduced in 1827. The recipe remains safely guarded in the hands of the Marnier Lapostolle family. Grand Marnier ages in oak casks for up to a decade before bottling. It contains 40 percent alcohol by volume, which is high for a liqueur. Connoisseurs enjoy Grand Marnier warmed in a snifter.
Cointreau
Cointreau, a brand of orange liqueur produced in the French suburb of Saint-Barthélemy d'Anjou, was first manufactured in 1875. A popular aperitif and cocktail ingredient, Cointreau is often sipped as an after-dinner digestif as well. Its flavor comes from a blend of sweet and bitter orange peels steeped in pure alcohol derived from sugar beets. Cointreau may replace triple sec in premium margaritas. Like Grand Marnier, it also contains about 40 percent alcohol.
Differences
Triple sec is a common ingredient in mixed drinks. Although Grand Marnier and Cointreau do stand in for it in some top-shelf cocktails, they're frequently enjoyed neat or on the rocks. Cointreau and Grand Marnier both contain more alcohol and taste less sweet than most brands of triple sec.