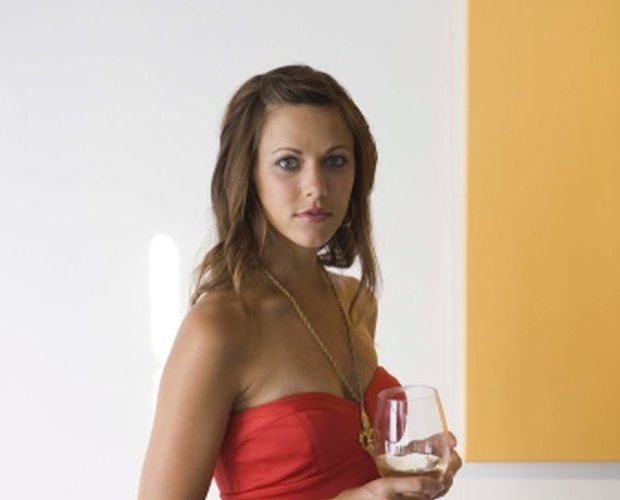 Jupiterimages/Brand X Pictures/Getty Images
Feel fabulous and look amazing in a formal dress that flatters your best features. Formal dresses are typically purchased for a formal event, such as a prom, wedding, gala or fancy night on the town with your significant other. Prior to shopping, decide on what characteristics are most important to you so you have an idea of what type of formal dress will best represent you and your style.
Color
The color of your dress is an important factor because you want the shade to complement your skin tone. Look ahead to the date of your event to determine what season you will be wearing the dress, as color trends are identified by the season. For example, if you will wear your dress during the summer, look ahead to the popular colors of bright pinks and yellows. Avoid colors that are in style but do not flatter you -- in this case, you will want to choose a flattering color over a trendy seasonal color.
Fabric
Feel the fabric against your skin by trying the dress on to get an idea of what type of fabric you like. Fabrics may look different when worn than what they look like on the hanger; therefore, it is best to try them on before purchasing. Stylish fabrics include silk, chiffon and satin. Keep in mind, though, that satin can add bulk to your body. Stick to fabrics you know look chic on you, and stay away from fabrics that add bulk.
Fit
Accentuate your curves with the right fit of a formal dress. The fit is one of the most important characteristics of a formal dress because a poor-fitting dress is an unfashionable dress. Know your body shape before you shop. A pear shape has wide hips with smaller shoulders, an apple figure is round throughout the body, an hourglass figure has proportionate hips and shoulders but a small waist and a boy shape is straight up and down with minimal curves. You should also know your best assets, such as your shoulders or legs. Show off shoulders with a one-shoulder dress, or showcase legs with a dress that is shorter in front and longer in back.
Style
The style of your dress says a lot about your personal style. Dress styles vary from store to store and designer to designer, so you may need to try on several dresses before you find your personal best style. Once you have the color, fabric and fit, you need to look to what makes the dress stand out. For example, the fashion-forward fashionista may want a dress that shows off her love of bows, so she can purchase a dress with a large side bow.