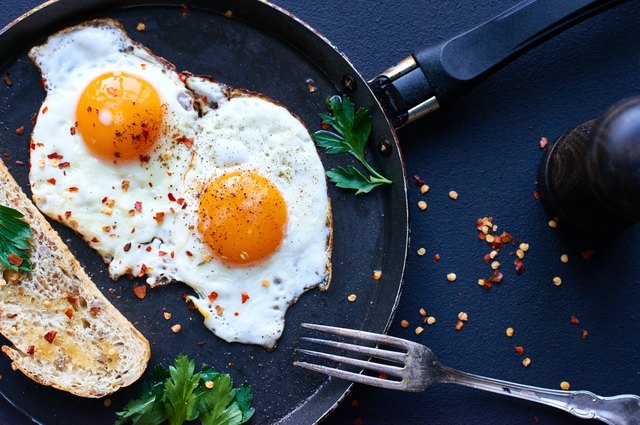 mediaphotos/iStock/GettyImages
Once the weekend arrives, is your Instagram feed filled with mouthwatering images of brunch dishes—particularly perfect, crispy fried eggs? (Let's be real: There are likely mimosas or Bloody Marys in there too.) If you're looking to replicate the protein-packed fan favorite (over avocado toast, anyone?), you don't need any fancy tools or complicated techniques. You just need one key ingredient: olive oil.
Whether you like your eggs over easy, sunny side down, as birds in a nest (yes, that's a real thing), or anywhere in between, olive oil is the secret to getting those crispy edges that make fried eggs so delicious.
Want proof? According to POPSUGAR, noted chefs like Giada De Laurentiis and everyone's internet BFF Chrissy Teigen have praised the kitchen staple as their go-to for making fried eggs (the latter also recommends using butter—more on that later).
So, toss that cooking spray and grab your olive oil out of the pantry because this is the best way to fry an egg, hands down.
The technique
Ingredients Egg
1-2 Tbsp olive oil
Salt and pepper
First, drizzle 1 to 2 tablespoons of olive oil in a medium-sized skillet and set your burner to medium-high heat.


After about a minute or two, the oil should be hot. Rotate the skillet so the oil coats as much of the surface as possible.


Crack your egg directly into the skillet and sprinkle salt and pepper over it.


Cook for about two minutes, rotating the skillet periodically. Watch as the edges of the egg whites get brown and crispy before your eyes!


Remove with a spatula and serve. Whether your olive oil fried egg sits atop a slice of avocado toast or snuggled next to hash browns is up to you.
For extra credit
Want your yolk to be a little less runny? Add 30 to 60 seconds to your cooking time to get more of an over-medium egg, says Bon Appetit.
Curious about Chrissy Teigen's aforementioned olive oil and butter combination? Per Insider, the model/foodie/Instagram celeb's Cravings cookbook includes a recipe for cajun catfish with over-easy eggs that recommends both as the base for egg frying (and avocado slices as a garnish—just saying).
If you somehow always wind up haphazardly cracking your eggs into the pan and making a mess in the process, follow Alton Brown's suggestion. The Food Network star recommends cracking eggs into cups or ramekins instead of directly into the pan, which provides more control over where the eggs land and helps to ensure they cook more evenly.
A next-level fried egg
If you're ready for a next-level fried egg, take a page out of Chef Jose Andres's book. As detailed by The New York Times in a step-by-step slideshow, the James Beard award winner starts by using 4 tablespoons of olive oil. He then tips the pan so the egg is covered in the oil, spooning it over the yolk so the egg white forms a protective coating of sorts. This technique results in a fried egg that's perfectly cooked both inside and out, with a deliciously crispy crust. In a word: yum.
No matter what type of fried eggs you prefer, take it from chefs who know a thing or two about cooking and use olive oil for perfect, crispy edges every time.