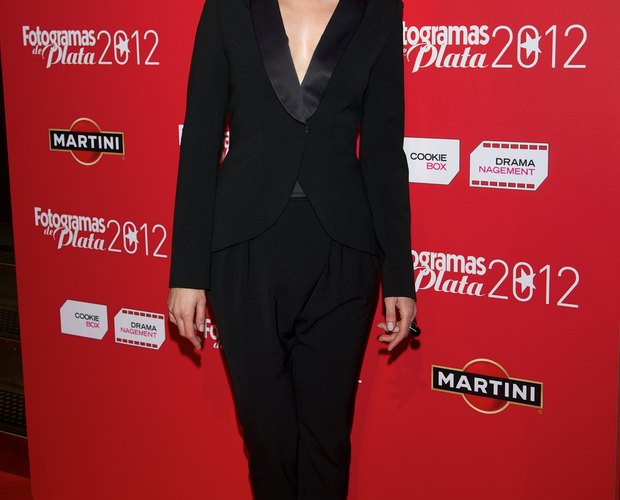 Carlos Alvarez/Getty Images Entertainment/Getty Images
When you've donned a suit, such as a black head-to-toe number, you may feel the need to add a colorful heel to add a pop of interest to an ensemble that may otherwise verge into super-conservative territory. Whether a more toned down look is actually just what you're looking for or you prefer softer, less in-your-face hues, wearing a neutral heel is not only acceptable -- it can look quite chic.
Black Heels
Black heels should be your go-to shoes when it comes to wearing a suit. No matter what color your suit, you will never go wrong with black. However, black heels make a strong impact in particular situations. For example, when you're wearing a classic black pant or skirt suit, a pair of black stiletto pumps, either closed or peep-toe, creates a chic finish. When you're pushing the envelope a bit and have decided to wear a printed suit, a pair of black heeled sandals anchors your look without distracting from your print or causing any color clash.
Nude Heels
If you have ever spoken with another woman regarding the benefit of nude heels, you know they extend your leg line and work with any color imaginable. As for the color, nude simply means finding a pair of shoes in the color closest to your natural skin tone for a barely there look. While nude works with everything, it lends an especially soft finish to lighter hued suits, such as an all-white pantsuit, which can lose its power when the eye is drawn too quickly to a pair of bold shoes.
Other Neutral-Colored Heels
You may think of shopping for neutral heels as limiting, but this experience is anything but. For instance, if you are wearing a navy blue suit, a pair of navy heels will make your leg line appear long and is an unexpected move away from classic black. Play with other neutrals, such as grays, charcoals, tans or browns, or neutral combinations, such as black-and-white footwear, for more variety. In addition, adding a neutral heel allows you to add color elsewhere in your outfit, such as with a bold brooch or a brightly printed scarf.
Metallics
Neutral footwear in matte, suede or patent leather in colors such as nude, black and navy offers a classic approach to styling your suits. However, if you wish you could add extra dimension to your ensembles, reach for a metallic heel. Silver, gold, bronze and pewter work with suits as well as less shimmery footwear. Imagine wearing a black or gray suit and popping your feet into silver, round-toe platform pumps. The shoes stay clear of extremely loud territory, but amp up your look with a personal touch.