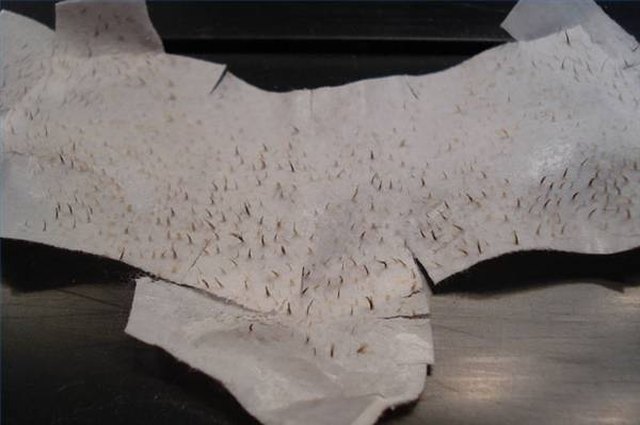 Blackheads are a common skin problem that many people worry about and want to eliminate. Blackheads, also known as open comedones, form when excess oils accumulate in the pores. Although you can buy pore cleansing products or strips or get a facial to remove your blackheads, there are effective remedies that can be done at home.
Lemon Juice
Lemon juice is widely used to get rid of blackheads and prevent them from forming. It is a natural, inexpensive remedy, but it must be used regularly to be effective. Squeeze the juice from half a lemon into a small cup, and dip a 100 percent cotton ball or pad into the juice. Firmly rub the juice over the areas of your face that have blackheads.
To get the best results with this remedy, wash your face before rubbing the lemon juice on it. Afterward, rinse your face with lukewarm water.
Cornmeal
Cornmeal is a gentle abrasive that helps remove blackheads and other dirt caught up in the skin's pores. You will need a small package of cornmeal and a facial cleanser--any facial cleanser that does not irritate your skin or that you regularly use will work. Mix 1/2 tbsp. cornmeal with 1 tbsp. facial cleanser, and gently massage it on your face, concentrating on the areas where you have blackheads. Rinse with lukewarm water. To make this treatment more effective, steam your face or place a hot towel over your face for up to 5 minutes to open your pores before applying the cornmeal mixture. If you open your pores this way, make sure to rinse with cold water to help your pores close back up.
Glue
The glue remedy mimics store-bought pore strips in how they work. You will need to take 1 tbsp. liquid white school glue, such as Elmer's, and mix it with 1/2 tsp. water. Put the glue mixture on your nose, and peel it off once it is completely dry. If you look at the patch of glue after removing it, you will see the blackheads removed from your nose. You can also apply this mixture to other parts of your face, such as the chin and forehead.
This remedy will not harm your skin because school glue is non-toxic. Do not try to use other types of glue, such as craft or tacky glue, super glue or hot glue--all they will do is irritate or damage your skin.
Blue Clay
Powdered blue clay can be found at health food stores or on the Internet via wholesale soap and cosmetic making supply companies. Blue clay is an ingredient frequently used in spa, salon and packaged facial masks, and is effective when it comes to getting rid of blackheads.
Take a 1/4 cup of powdered blue clay and mix it with just enough water to form a thick paste. Apply the paste to your nose, chin, forehead or any other area where you have blackheads. Make sure you spread the mask in a thick layer. Let the mask dry, and then peel it off. Repeat this between two and three times per week for the best results.
References