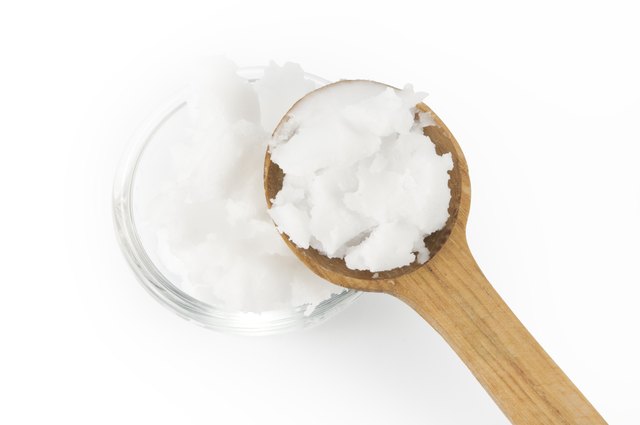 Coconut oil has a tropical scent and a smooth, silky texture. It is a rich oil that heals and protects the skin. It can be used as a simple daily moisturizer or to help cure skin problems. It can help protect the skin from the sun and can help to heal burns. Coconut oil has been used in the islands as a topical oil to protect and nourish the skin. Coconut oil is rapidly gaining popularity as a rejuvenating topical oil.
Properties
Coconut oil is a medium chain fatty acid. It has relatively small molecules that allow it to penetrate the skin. Coconut oil is rich in fatty acids such as capric acid, caprylic acid and lauric acid. The fatty acids have disinfectant and anti-microbial properties. Coconut oil is high in vitamin E, which is known for its skin healing properties. The triglycerides in coconut oil help to keep moisture from escaping from the skin, which aids in retaining softness and suppleness.
Topical
The rich tropical smell of coconut oil combined with its many topical skin benefits makes this oil an excellent daily face and body moisturizer. The small molecular structure of coconut oil allows it to easily penetrate the skin while preventing moisture from escaping. Coconut oil has been found to have sun-protective properties. It offers moderate sun protection and is soothing to the skin after too much sun. Coconut oil also makes a soothing and relaxing massage oil.
Problem Skin
Coconut oil can help to cure and prevent acne by encouraging a pH balance that allows one's natural oils to combat infection. The lauric acid in coconut oil has anti-fungal and anti-bacterial properties. Thus, coconut oil can be used to help heal infections, such as athlete's foot and ringworm, according to Bruce Fife, CN, ND. Coconut oil also aids in healing cuts and minor burns.
Benefits
Using coconut oil on the skin can help combat and prevent microbial and bacterial infections. Adding the oil to your diet also can have a similar affect on your skin, helping it to stay young, supple and strong. Signs of aging occur when free radicals cause the connective tissue in the skin to break down. Coconut oil's high antioxidant levels slow the harmful effects of free radicals in the body. This prevents the damaging actions that lead to signs of aging.
Considerations
Coconut oil is great for the skin. It has as many benefits when taken as a dietary supplement as when applied directly to the skin. Coconut oil is a saturated fat, but not all saturated fats are bad and coconut oil is one of the healthy ones. Coconut oil can help to rebuild youthful, supple skin while combating the signs of aging. It can be used to help heal wounds, infections and burns. Coconut oil is not a cure-all, but it does offer wonderful moisturizing properties while healing and soothing the skin from the inside and out.
Resources