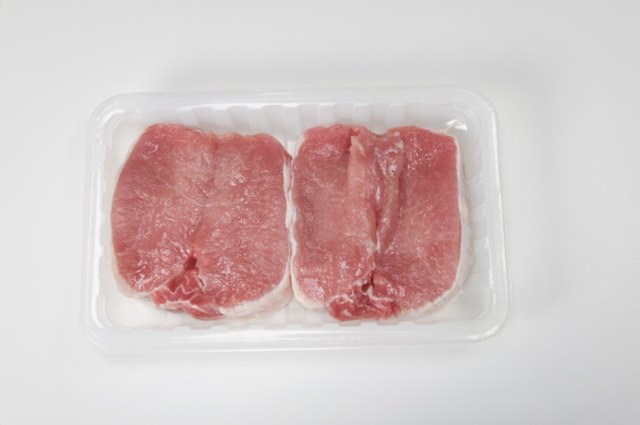 Jupiterimages/liquidlibrary/Getty Images
Pork chops between 1/4-inch and 1/2-inch thick are referred to as thin cut pork chops. If you add a few extra ingredients to the baking pan, the whole dinner can cook in the oven at the same time, giving you freedom to relax and enjoy the aromas coming from the kitchen. The additions to the pan will also help keep the meat moist because of the moisture they add to the oven.
Preheat the oven to 425 degrees Fahrenheit. Make a mixture of seasonings by putting parsley, thyme, garlic, pepper, marjoram and oregano in a bowl and stirring well.
Spray each chop lightly with cooking oil. Sprinkle chops on both sides with one tablespoon of the seasoning mixture and place in the four corners of the baking pan.
Combine potatoes, mushrooms, peppers and onion in a large bowl. Spray lightly with oil, add the other tablespoon of seasoning and toss to coat. Lay evenly in the middle of the baking pan.
Bake for 45 minutes uncovered. Check the chops to ensure they have reached an internal temperature of 160 degrees Fahrenheit. Bake 15 more minutes if needed.
Tip
If you do not care for the seasonings in the recipe, switch them up with the equal amount of an herb and spice blend you prefer.