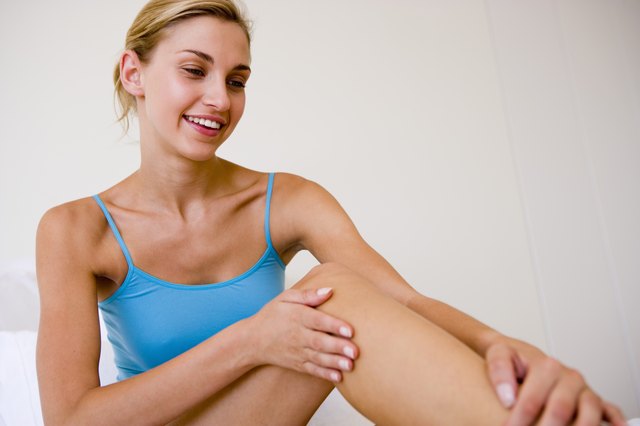 Jupiterimages/Pixland/Getty Images
According to the Aquaphor product label, Aquaphor healing ointment is manufactured by Eucerin to provide advanced therapy for dry, cracked or irritated skin. Aquafor can be used anywhere on the body, including the lips, as a skin protectant. Aquaphor contains just one active ingredient and six additional inactive ingredients.
Petrolatum
Approximately 41 percent of Aquaphor is petrolatum, commonly referred to as petroleum jelly. Petrolatum, according to MiMi.hu, is often used as a basis for ointments, as it creates a film on the surface of the skin, which prevents moisture from escaping.
Other Petroleum-Based Ingredients
Aquaphor also contains mineral oil and ceresin. According to MiMi.hu, mineral oil is a petroleum-based oil often used in cosmetics, because it is colorless and odorless and usually causes no allergic reaction. Ceresin is a petroleum-based ointment used to reduce the healing time of dry, irritated skin.
Plant-Based Ingredients
Glycerin and bisabolol are two plant-based ingredients found in Aquaphor. Glycerin, according to MiMi.hu, is a moisturizer derived from the fatty oils of the coconut. MiMi.hu also states that bisabolol, an anti-inflammatory agent, comes from the chamomile plant and is used to soothe and prevent irritated skin.
Remaining Ingredients
The two remaining ingredients in Aquaphor are lanolin alcohol and panthenol. Lanolin alcohol, a derivative of sheep's fat, is a softening and soothing agent commonly used in cosmetics and lotions. Panthenol is another name for vitamin B5. According to MiMi.hu, panthenol penetrates the skin for deep moisturizing.