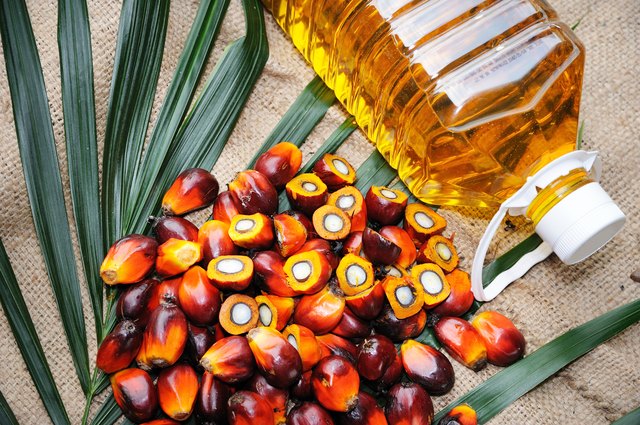 slpu9945/iStock/GettyImages
Palm oil and palm olein originate from the same plant, a palm species known as E. Guineesis. This plant grows in South East Asia, Africa and Latin America, and humans have been consuming various parts of it for over 5,000 years.
Palm Oil
Palm oil is extracted from the flesh of the fruit of E. Guineesis using pressure. In its unrefined form, the palm oil is bright orange in color due to high amounts of carotene pigments. The oil is semi-solid at room temperature and is highly resistant to oxidation and prolonged exposure to heat. Palm oil is widely used in margarine and vegetable shortenings.
Palm Olein
When the semi-solid palm oil is refined, it separates into palm olein and palm stearine. The palm olein has different characteristics than the palm oil, most notably that it remains completely liquid at room temperature. It is highly heat resistant, similar to palm oil, and it also resists the formation of breakdown products during frying and increases the shelf life of many products.
Main Difference
Although palm oil and palm olein are produced from the same plant and share many similar properties, the main difference between them is their chemical state at room temperature. Semi-solid palm oil is used more frequently as a fat in bakery products, whereas liquid palm olein is considered the "gold standard" and is the most widely used oil for frying in the world.