In the age of Instagram, the notion that we eat with our eyes first couldn't be truer. Ever since food stylist Adeline Waugh dreamed up the gloriously whimsical, colorful unicorn toast (and now mermaid toast!) the world has fallen in love with toast all over again. Brighten up your mornings with four creative ideas for making this breakfast basic look and taste like a dream. These range from simple to ambitious. Bye, acai bowls!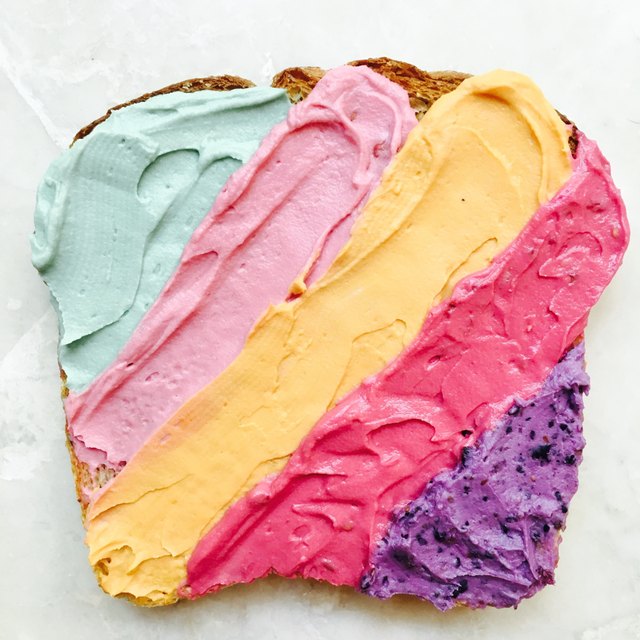 Strawberries-and-Cream Rose Toast
Strawberries and cream cheese go together like peanut butter and jelly. Pick up an almond milk–based cream cheese for a dairy-free option. Their crimson color make strawberries perfect for forming into adorable little rosettes. It's simpler than it sounds—watch this to learn how. Smear the cream cheese onto the toast and place a bursting bouquet of rosettes on top.
Secret Garden Toast
Here's one that makes real edible flowers a little more approachable. Infuse cream cheese with a sunshine glow by mixing in just a pinch of turmeric. Add a little bit of the spice at a time to achieve your ideal golden hue, and taste the cream cheese as you go to make sure the turmeric isn't too overpowering. Spread that on the toast. Lay a bed of microgreens over top, letting the cream cheese peek out from underneath through little gaps. Place some young dandelion flowers wherever you like—bunch them on one diagonal half, or sprinkle them all over. These flowers are sweet, almost honey-like. For a different flavor, try calendula (also known as marigold) petals, which come in shades of yellow, orange, or red and taste similar to saffron.
Tropical Toast
Okay, we'll never really be done with acai, but who says it has to be served in a bowl? Take a frozen packet of pure, unsweetened acai purée and break it up with a rolling pin. Blend the acai with ¼ cup almond milk, 1/2 banana, and a squeeze of lime until smooth and thick. Spread it on toast. Top with a grilled sliced pineapple round in the center, and encircled that with fresh kiwi slices. Sprinkle on some coconut chips. The toast of the tropics!
Psychedelic Mushroom Toast
Beauty is in the eye of the beholder here—if you're a mushroom lover, this one's for you. If not, skip this. Around June, ethereal chanterelles start to spring up on forest floors, with wavy, trumpet-like shapes that make them one of nature's loveliest mushrooms. Unless you happen to be an experienced forager, only get them from a market since they do have poisonous look-alikes. Sauté small to medium whole chanterelles with a minced garlic clove and olive oil until golden. Mix a teaspoon of beet juice into some cream cheese; add more little by little to achieve the your desired hot-pink hue. Smear that on the toast. Lay the mushrooms all over the toast with the stems starting from the center and the mushroom tops going out toward the edges. Create an avocado rose and place it in the center of the toast. Sprinkle on some sea salt and freshly ground black pepper.