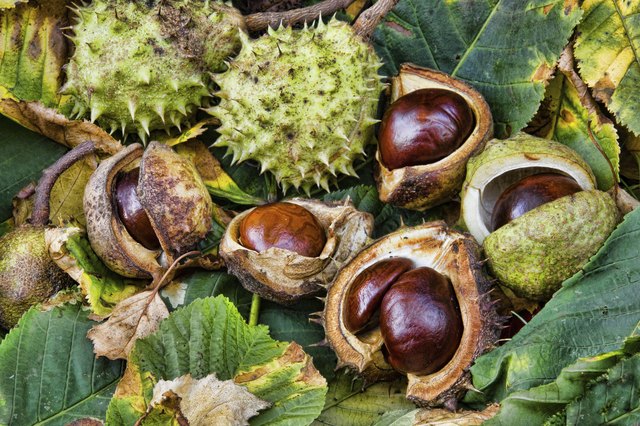 KatieSuperStar/iStock/Getty Images
Hemorrhoids, also known as piles, occur when the veins and tissues in your rectum and anus become swollen and inflamed. If you have hemorrhoids, you may experience pain, bleeding and itching around your anus. Hemorrhoids can develop during pregnancy, or from long-term bouts of diarrhea or constipation, obesity and strained bowel movements. Herbs may help shrink hemorrhoids and relieve the pain and inflammation. Consult a health care provider before starting herbal therapy for hemorrhoids.
Herbal Actions
Herbs must act on tissues and blood vessels to shrink hemorrhoids. Some herbs for hemorrhoids have anti-inflammatory actions, affecting the body's response to tissue damage and reducing swelling internally and externally. Astringent herbs may help reduce bleeding and tighten damaged tissues. Consult a knowledgeable practitioner for instructions on use and dosage.
Horse Chestnut
Horse chestnut, or Aesculus hippocastanum, is a deciduous tree with pink-spotted white flowers and large seeds. Traditional healers use the seeds to tone blood vessels and to treat hemorrhoids and varicose veins. The active ingredients include saponins and tannins, and the seeds have anti-inflammatory and astringent properties. In their 2000 book, "The Herbal Drugstore," Dr. Linda B. White and medicinal plant expert Steven Foster recommend drinking horse chestnut tea and tincture, and also applying the cooled tea as a topical compress on swollen tissue. Make a tea by simmering one teaspoon of the dried seeds in one cup of water for 15 minutes, cool and use. Do not combine this herb with anticoagulant medicine.
Witch Hazel
Witch hazel, or Hamamelis virginiana, is a native of North America and a traditional remedy for hemorrhoids and other venous disorders. The leaves and bark are rich in tannins, which have astringent and anti-hemorrhoidal activities. Clinical herbalist David Hoffmann, in his 2003 book, "Medical Herbalism: The Science and Practice of Herbal Medicine," suggests applying a mixture of 80 ml of distilled witch hazel and 10 ml of horse chestnut tincture externally after bowel movements. Decrease the amount of witch hazel if your skin becomes irritated.
Oak
Oak, or Quercus spp., is a tall deciduous tree with potent astringent, antiseptic and anti-inflammatory actions. Herbalists use the bark to treat hemorrhoids and diarrhea. Active components include ellagitannins, catechins and proanthocyanidins, and you can use the herb internally or externally. Herbalist David Hoffmann advises using a decoction of the bark as an enema for hemorrhoids. Prepare a decoction by boiling one teaspoon of the bark in one cup of water for 15 minutes, cool and use. You can also apply compresses soaked in a cooled decoction externally. Do not use this herb if you have constipation.