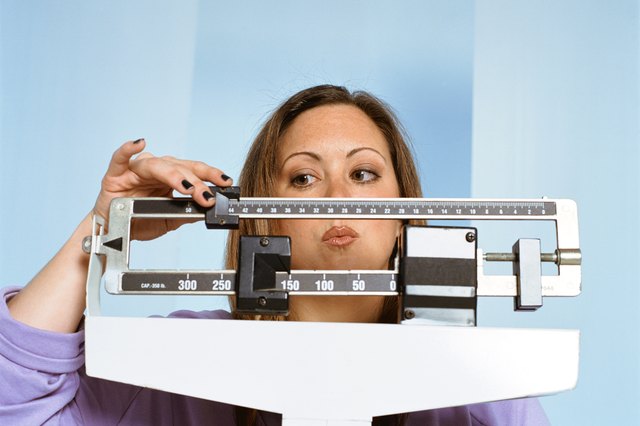 Creatas/Creatas/Getty Images
Some foods and supplements may make shedding those pesky extra pounds a bit easier. For example, Garcinia cambogia is a fruit and a supplement that may help block body fat production and help you reach your target weight goal. More human studies are needed to confirm its efficacy and safety, however. A different species of the plant, Garcinia mangostana, has recently been studied for its potential anti-cancer benefits. Consult with your doctor before using Garcinia supplements for weight loss or to treat a medical condition.
Garcinia Cambogia
Garcinia cambogia is a small, sour tropical fruit used traditionally as a condiment and to prevent formation and increased release of intestinal gas. The dried fruit rind, called Malabar tamarind, has been used traditionally to treat rheumatism and gastrointestinal complaints. The fruit rind extract is rich in a compound called hydroxycitric acid. This compound may inhibit fat production, especially fat produced from excess dietary calories from carbohydrates. Garcinia cambogia may also help curb your appetite, but this effect was not found in a clinical study of overweight women receiving the supplement, according to "Physiology and Behavior."
Human Weight-Loss Studies
Human clinical studies looking at the effectiveness of Garcinia cambogia supplements for weight loss are inconclusive. An early study published in the Nov. 11, 1998, issue of the "Journal of the American Medical Association" measured the effects of a Garcinia cambogia supplement in overweight men and women. Compared with a placebo, the Garcinia supplement did not stimulate body fat loss or weight loss. Nevertheless, according to a systematic review of nine credible human trials published in a 2011 issue of the "Journal of Obesity," Garcinia cambogia extracts containing hydroxycitric acid may produce small, but significant, short-term weight loss.
Garcinia Mangostana
Garcinia mangostana, or mangosteen, is a tangerine-size, purple tropical fruit. Mangosteens may be eaten fresh as a dessert, and the more acid fruits may be used to make preserves. The dried fruit rind has been used traditionally to treat dysentery, and it may also be made into an ointment and applied topically for skin disorders. The fruit is rich in a type of phytochemical called xanthones, which may have antioxidant, anti-inflammatory and anti-cancer properties. Mangosteen xanthones can inhibit growth of breast and prostate cancer cells, according to a review published in the June 26, 2013, issue of "Frontiers in Pharmacology."
Garcinia Safety Considerations
Combined with a healthy lifestyle and diet, Garcinia cambogia may help decrease the amount of new fat that your body makes, especially fat produced from simple sugars such as sucrose and fructose. Long-term use should be under medical supervision, however. Garcinia cambogia extract is not recommended for people with diabetes, Alzheimer's disease or other forms of dementia, and pregnant and lactating women, according to a National Institute of Environmental Health Sciences report. Garcinia cambogia may also adversely interact with some prescription medications. In people with cancer, mangosteen may lower the effectiveness of chemotherapy. It may also inhibit the normal metabolism of some prescription drugs.