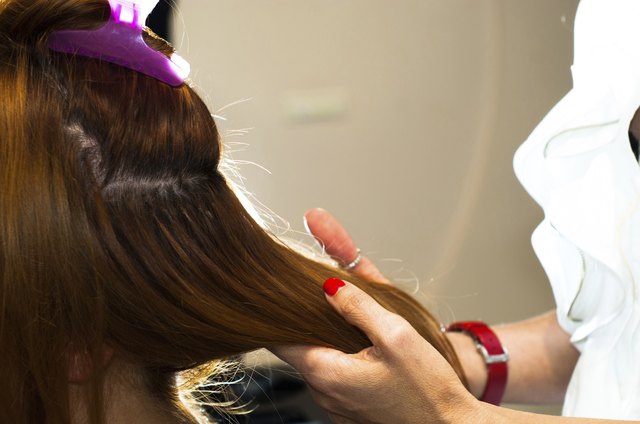 smirart/iStock/Getty Images
Hair extensions can be made of synthetic or human hair, and both types tend to be frizzy if not properly cared for. However, with proper care and styling, which only takes a few minutes a day, you can keep your hair extensions free of frizz. You'll need just a few products that you probably already use.
Comb your hair extensions regularly with a wide-toothed comb. Hair brushes should not be used to brush hair extensions, as this can encourage frizz.
Spray hairspray onto your hair extensions the same way that you would apply it to your real hair to reduce frizz and fly-aways.
Wash your hair extensions weekly with a mild shampoo. As suggested in "Hair Care: An Illustrated Dermatologic Handbook," forgetting to wash your hair extensions can lead to a buildup of styling products and encourage frizz.
Apply an anti-frizz serum to your hair extensions when the frizz seems excessive. The serum can easily build up in the hair extensions and should therefore be avoided for everyday use but is appropriate for occasional use when treating excessive frizz, notes "The Science of Hair Care."