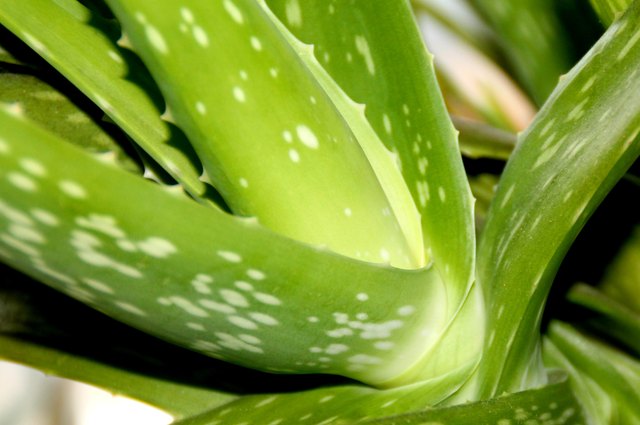 shellhawker/iStock/Getty Images
Fruit of the Earth says its aloe vera gel can help moisturize and soothe your skin, making it a "great organic sealant" to protect your skin from the elements. It's marketed as both an all-natural moisturizer and as a soothing treatment for sunburns. Knowing exactly what ingredients are used in the aloe vera gel can help you decide if Fruit of the Earth's gel is right for your skincare regimen.
Aloe Vera Gel
The translucent gel from the Aloe barbadensis plant gets pressed from the plant's succulent leaves and comprises the largest proportion of Fruit of the Earth's gel. The company only uses 100 percent pure aloe vera gel. The aloe vera is not mixed with any other herbal extracts like it is in some other aloe vera skincare products.
Triethanolamine
Triethanolamine works as a humectant, according to the National Toxicology Program, a program of the National Institute of Environmental Health Sciences. Humectants attract moisture to the skin's surface when applied topically. The program also says it functions as a softening agent, which lends it further benefit to the skin.
Tocopheryl Acetate
You may know tocopheryl acetate simply as vitamin E. The Environmental Working Group's cosmetic safety database says the acetate is both a skin-conditioning agent and an antioxidant. The vitamin can help improve the general health of your skin.
Carbomer 940
Carbomer 940 functions as a viscosity enhancer, reports the Natural Skin Care Lab, which also calls it a "clear gelling agent." It gives the aloe vera gel its thick, gel texture without imparting any color to the product.
Tetrasodium EDTA
The Environmental Working Group reports that tetrasodium EDTA is a commonly used chelating agent. Chelating agents help various molecules bond together.
DMDM Hydrantoin
DDM hydrantoin is a preservative. Dormer Laboratories says it's often used in skincare products, hair products and other cosmetics. It helps keep the aloe vera gel stable and extends its shelf life.
Diazolidinyl Urea
Diazolidinyl urea is a chemical preservative that has anti-microbial properties, according to a study commissioned by the National Cancer Institute and published by the National Toxicology Program. It's widely used as a cosmetic preservative in skincare products.