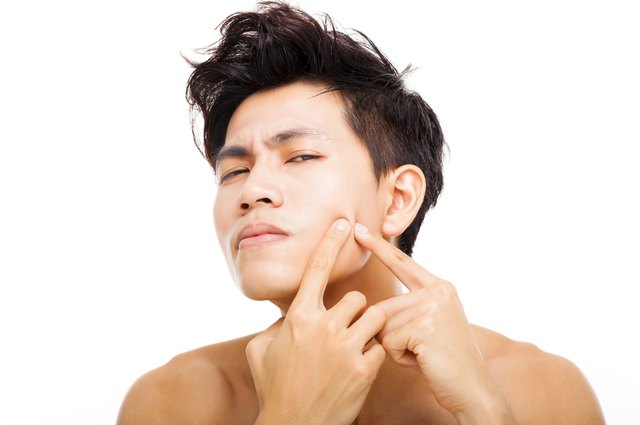 Tomwang112/iStock/Getty Images
Acne is never fun -- especially when you thought one of the benefits of adulthood was getting past the pimple-popping stage. While acne affects both men and women, it's been noted that young men usually suffer from acne longer because they have higher levels of testosterone, which can make acne worse. Get to work with a number of over-the-counter acne products to help control breakouts and smooth out your complexion.
Keep to a Cleansing Routine
Cleanse the skin on a regular schedule -- in the morning, before bed and after exercising or playing sports. Washing away dirt and excess oil from the skin is the first step in keeping pores clean and free from bacteria. Gently massage a dollop of 2.5- to 10-percent benzoyl peroxide cleanser into your skin for at least 30 seconds. Rinse with warm water and pat -- don't rub -- your skin dry with a towel. A good all-over body wash for men is Neutrogena Body Clear Body Wash, while PanOxyl Acne Cleansing Bar and Clean & Clear Continuous Control Acne Cleanser will do the trick for the face.
Swipe on Salicylic Acid
Men with oily skin and acne should use a facial astringent with salicylic acid after every wash. This not only wipes away leftover cleanser, it actually helps restore the skin's pH balance and aids in acne-medication penetration. The addition of salicylic acid is important for acne-prone skin, because it helps slough away dead skin cells and diminishes the appearance of pores. Pour some on a cotton pad and swipe around your entire face once. Try Anthony Logistics for Men's Spot Therapy, Clinique Men's 3.5 Percent Scruffing Lotion or Derma-E Very Clear Astringent.
Stay With Sulfur
After the astringent dries, the face is ready for acne spot treatments. One of the best ways to treat breakouts is to dab sulfur on blackheads and whiteheads. This antibacterial agent suppresses the bacteria that causes acne, peels the top layer of skin and helps unclog pores. Opt for Clearasil Daily Clear Adult Tinted Acne Treatment Cream, Kate Somerville EradiKate Acne Treatment or AcneFree's Therapeutic Sulfur Mask.
Go for Retinoids
Retinol is a derivative of vitamin A which can alter the skin's oil chemistry. It works to shed dead skin cells and unclog pores to release trapped dirt, oil and sebum. As a bonus, retinol also increases collagen production, makes the skin appear brighter and plumps up any fine lines and wrinkles as you age. Try SkinCeuticals Retinol 1.0 or Healthy Skin Anti-Wrinkle Anti-Blemish Cream.