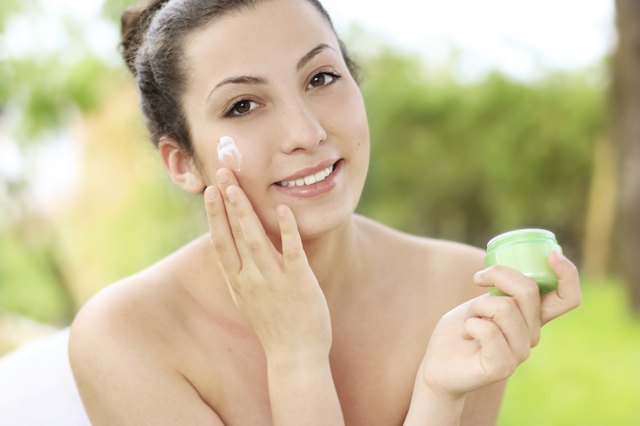 kokanphoto/iStock/Getty Images
Jojoba oil is no newcomer to the skin-care industry. Packed with nutrients and vitamins, the natural ingredient -- derived from a desert shrub -- is an effective moisturizer for even the driest of complexions.
Ancient Roots
Jojoba oil has been used for cosmetic and healing purposes for centuries. According to "Milady's Skin Care and Cosmetic Ingredients Dictionary" by Natalia Michalun and M. Varinia Michalun, Native American inhabitants of the Sonoran Desert employed it to address a variety of health issues including skin sores and stomach disorders.
Marvelous Moisturizer
These days, jojoba oil's praises are sung for its moisturizing abilities and versatility. The oil is used to remedy dryness in skin, hair and lips. Linda Walker, in "The Skin Care Ingredient Handbook," explains that the botanical reduces water loss and balances oil production. Jojoba oil also reconditions and protects, improves skin's texture and can even improve flakiness.
Jojoba Protocol
Jojoba oil is a great stand-alone agent as it is moisturizes without clogging pores. After cleansing and toning your face, squeeze five to six drops of jojoba oil into your palm and spread onto your face, using gentle circular motions. You can also mix a few drops with your favorite moisturizer. For dry or chapped lips, apply a few drops of oil instead of lip balm directly to the lips. As a hair treatment, mix jojoba oil with the hair conditioner of your choice or apply it to damp hair before blow drying.