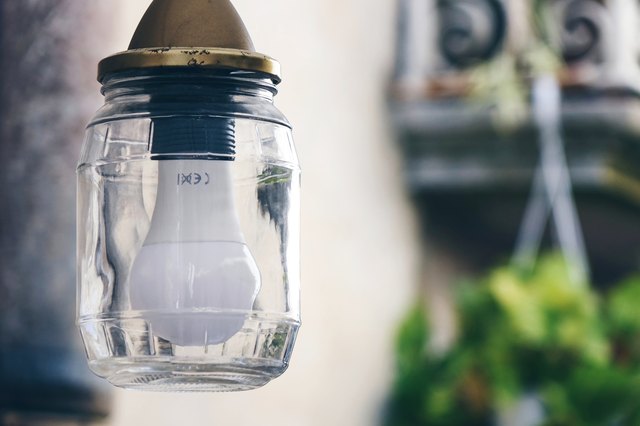 Lotte Kersten / EyeEm/EyeEm/GettyImages
John L. Mason patented the Mason jar back in 1958, and since then, it has gone on to become that thing that holds string lights at the fourth rustic barn wedding you've been to this year. Really, while it was created for canning and preserving, the combo of the threaded mouth and two-part tin lid is what makes the Mason jar an uber-versatile kitchen staple that holds way more life hacks than its 16-ounce capacity would have you believe. The only thing this workhorse can't do is stop your mind from being blown (but it can definitely hold the pieces in a really neat way).
The Blender Trick
It might be hard to top, but we're starting big with the mother of all Mason jar hacks: the blender trick.
So, your Mason jar is threaded – that's how the lid screws on. The little bladed knob that your blender's pitcher screws on to is threaded too. You see where we're going with this, right? Yes, a standard-sized Mason jar can screw right on to most blenders in place of the pitcher, making it way easier to blend individual beverages or small batches of things like nuts, coffee beans or spices.
Jut try not to think too much about all that time you spent washing the whole pitcher for just one superfood smoothie. That, gentlemen, was your life before the blender trick.
An All-New Sconce Light
You know those old wall sconces that you screw a bulb into, then put a glass cover over it and tighten a few screws on the sconce to keep the cover in place? There's a good chance a Mason jar will fit in place of that glass cover, especially with a little tightening of those screws. Even better, it costs less than just about any cover and lends your space a vibe somewhere between rustic and industrial. Go with the thin, tear-like shapes of B-, C- and F-series bulbs or a timeless Edison bulb to really nail the look.
There's a reason Mason jars continually dominate Pinterest – they're cheap, accessible, versatile and genuinely look good as part of your home decor. Take that, trendy weddings.
Crazy Lid Hacks
Sometimes, you miss the forest for the trees, and sometimes, you miss the Mason jar lid for the jar.
Don't worry about how little sense that made. What we're saying is: That inconspicuous Mason jar lid is actually super useful. Getting into baking and want to look like you've been tossing dough for decades? Use the tin ring to cut perfect circles into rolled dough.
Even better, grease up your skillet and throw that bad boy in. Crack an egg into the ring to make eggs so perfectly rounded that they qualify as art (and fit on breakfast sandwiches in a ridiculously satisfying way). This works for making mini pancakes too, and the results are adorable.
Fancy Microwaved Cakes
As if the stalwart Mason jar wasn't handy enough, it's about to impress your next date. Leave it to John L. Mason to follow up your signature balsamic glazed chicken recipe with a microwaved (seriously) dessert that makes you look like the son of Betty Crocker. There are a bunch of different recipes for Mason jar mug cakes, but let's start with this one from the chocolatiers at Purdys. In each jar, thoroughly mix:
1/4 cup flour
3 tablespoons unsweetened cocoa powder
1/4 teaspoon baking powder
3 tablespoons sugar
1/8 teaspoon salt
1/3 cup milk
2 tablespoons vegetable oil
Throw those guys in the microwave on high for two minutes, top it with some whipped cream (you can really set it off with a sprinkle of cinnamon or chocolate shavings) and you have a stylish, restaurant-worthy dessert that almost feels like cheating.
Instant Garlic Peeler
One surefire way to make the spaghetti sauce bubble over is to futz around with peeling fresh garlic cloves for an eternity. Take a pass on all that – just break up the head of garlic, throw the cloves in an empty Mason jar, tighten the lid and shake like a madman for about 30 seconds. Voila, your garlic is peeled (this one feels like magic, but it's very real).
Bonus: Using your Mason jar as a shaker also works for coffee-friendly frothed milk and makes the creamiest scrambled eggs you've ever dared to imagine. Yes, you can use it for cocktails too because of course you can.