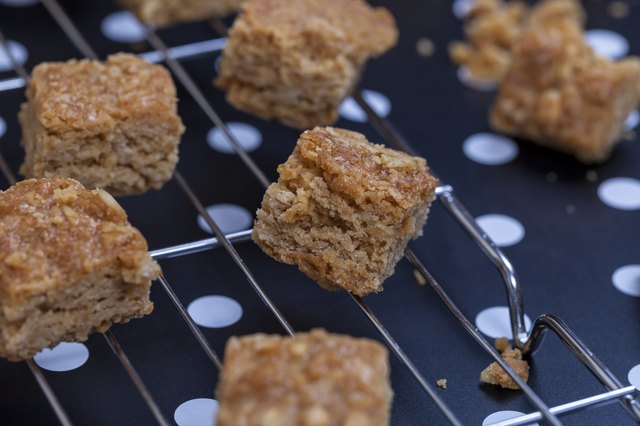 Granola bars are a go-to favorite snack and can be quite healthy if prepared at home rather than bought from the grocery store. Many commercially made granola bars are loaded with an exorbitant amount of added refined sugar and completely covered with chocolate. While a little sugar and chocolate is fine, too much simply packs on the calories. Try making homemade granola bars to control the nutrition.
The reason granola bars make such a popular snack for long days of physical activity like hiking or as a post-practice fuel is because of the balance of nutrients. When using a balanced, healthy granola bar recipe to make homemade granola bars, each portion contains fiber, protein and carbs. Protein and healthy carbs are both important in helping the body recover from exertion. Use these granola bar recipes to make your own homemade granola bars using your favorite health-conscious ingredients.
Granola Bar Ingredients
The wonderful thing about making homemade granola bars is that you can decide which ingredients go into the mix. This opens up a whole host of healthy options and a wide range of combinations that can be personalized to your taste or to whatever you may have in the pantry.
Basic granola bars require five key ingredients: a dry, coarse base, a sweetener that acts as a sticky binder, a liquid binder for moisture, a dry binder to help soak up and combine the sticky and liquid binders and additional ingredients for flavor and texture.
Granola Bar Base
The dry, coarse base is usually made of old-fashioned oatmeal, which is less processed. It can also be made with quick oats, though they lack some of the nutrition of old-fashioned oats. Other alternatives include chopped nuts, shredded coconut or a combination of nuts, seeds and oats. All of these ingredients can also be toasted for added flavor.
Granola Bar Binders
The binders range from maple syrup to honey for the sticky binder that also sweetens the bars, while the liquid binder tends to be a nut butter, regular or vegan butter or oil. These provide the granola bars with healthy fats, protein and necessary carbs. Try using almond butter or sunflower seed butter instead, or use peanut butter for a raw alternative that avoids added sugar. Vegetable and canola oils work well, but olive oil is known for its healthy fats.
Dry binders are typically some type of flour, protein powder, flaxseeds or shredded coconut. Coconut and almond flour work really well without forgoing taste. Protein powder is another good option that packs an additional protein punch, but check that it does not add too much refined sugar to the bars. Flaxseeds are the best all-natural and raw option.
Granola Bar Fillers
Finally, the add-in ingredients consist of chopped raw or toasted nuts, seeds, dried fruit, bittersweet chocolate pieces and spices that will help flavor and give texture to the homemade granola bars. Seeds like chia add healthy fatty acids like omega-3s. Dried fruit will add sweetness and chew just as chocolate pieces will add a bittersweet flavor followed by a snap when biting into the bar.
How to Make Chewy Homemade Granola Bars
Total Time: 25 minutes | Prep Time: 10 minutes | Serves: 10 granola bars
Ingredients:
1 cup whole wet preserved figs
1 1/2 cups old-fashioned oats
1 1/4 cup unsalted cashews or walnuts, toasted and chopped
1/4 cup creamy, raw cashew butter or almond butter

1/3 cup honey or agave nectar

Optional add-ins: dried fruit, carob chips, chia seeds, candy, vanilla, cinnamon, etc.
Directions:
Using a food processor, blitz the figs until a dough-like consistency occurs, forming a ball inside the processor.


In a large mixing bowl, pour in the figs, oats and chopped nuts, but do not mix together yet.


In a saucepan over low heat, gently heat the nut butter and sweetener of choice such as honey or agave nectar. Stir while heating until it is a somewhat-loose liquid.


Pour the sticky syrup over the oat, date and chopped-nut mixture.


Use a rubber spatula to mix together, breaking up the figs to evenly distribute throughout the granola bar mixture.



Pour the mixture into a foil-lined baking dish

and use the spatula to evenly spread it into a single layer.

7. Using a drinking glass or your hands on top of a sheet of parchment paper or aluminum foil, firmly pack the layer down to form a solid bar.

8. Cover with plastic wrap or foil and place in the fridge or freezer for 15 to 20 minutes to firm up.

9. Lift the bars from the pan once set and slice into 10 even bars. Serve at room temperature.
These bars are easy to pull together quickly and can be adapted to make several batches at once. Keep these bars for up to five days at room temperature or store in the fridge or freezer for up to 30 days.
How to Make Crunchy Homemade Granola Bars
Total Time: 60 minutes | Prep Time: 15 minutes | Serves: 8-12 granola bars
Ingredients:
1 cup rolled old-fashioned oats
1/3 cup raw almonds, sliced

1/4 cup almond meal
2/3 cup finely shredded coconut, unsweetened
1/4 teaspoon flaky sea salt
1/3 cup whole wet preserved figs, chopped (do not opt for prechopped or dried, as these need to be sticky)
2 tablespoons nut butter of choice
2 tablespoons good olive oil
1/4 cup maple syrup or honey
Directions:
Heat oven to 350 degrees Fahrenheit.


Place oats and almonds in a single layer on a clean baking sheet and toast in the oven for 10 to 15 minutes.


Reduce oven to 325 degrees Fahrenheit.


In a large mixing bowl, combine almond meal, shredded coconut and sea salt.


Once toasted, add the oats and almonds as well as the figs, gently tossing together.


In a saucepan over medium heat, bring the nut butter, olive oil and maple syrup or honey to a low boil, stirring occasionally.


Once at a low boil, remove and pour directly over the oat mixture in the mixing bowl.


Using a spoon, mix well to combine all ingredients and coat the dry ingredients evenly with the figs and sticky nut-butter syrup.


Spread into a thin, even layer on a parchment-lined baking pan, generally an 8-by-8-inch pan.


Cover with another sheet of parchment paper and use a drinking glass to press down on the mixture to ensure it is solidly compacted and even in the pan.


Remove the top parchment paper and bake for 20 to 25 minutes until the edges are crisp and golden brown.


Allow the granola to cool in the pan or place it in the freezer to speed up the cooling process.


Once cool, remove from the pan and slice into even bars.
While these bars are delicious on their own, feel free to try melting chocolate and dipping one side of the granola bars into it. Sprinkle your choice of seeds, chopped nuts or other toppings onto the melted chocolate and allow to cool. Make the recipe your own by swapping in your preferred choice of chopped nuts, nut butter and sticky sweetener. These bars will keep at room temperature for one week or up to a month in the freezer.