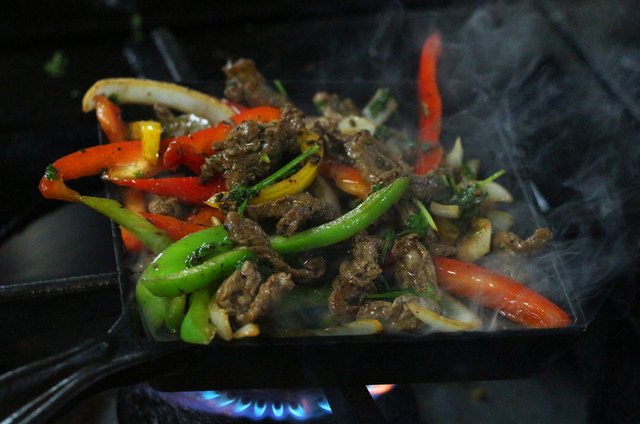 libin jose/iStock/GettyImages
Fajitas are a perfect meal for a crowd or a casual outdoor dinner gathering because the entire meal comes together very easily no matter how many you are serving. From a starter of salsa and cheese dip with chips and margaritas to planning and cooking enough seasoned vegetables and meat to go around, this Tex-Mex meal is simple. Fajitas can be prepared in advance and reheated just before serving, making preparation relaxed while allowing time for final touches to the bar or serving line. For the easiest cleanup and serving method, opt to set out the tortillas, fillings and bowls of toppings for guests to serve themselves and assemble their own dishes to their liking.
Create Your Own Fajita Recipe
Total Time: 1 hour 30 minutes | Prep Time: 1 hour 20 minutes | Serves: 6
Ingredients:
Fajita Mix
Store-bought option: 1 pouch pre-made fajita seasoning mix
Homemade option:
2 tablespoons lime juice
1 1/2 teaspoons garlic salt
1 1/2 teaspoons dried oregano
1 1/2 teaspoons cumin
1/2 teaspoon chili powder
1/2 teaspoon smoked paprika
1 teaspoon red pepper flakes
Fajita Sauce
Meat Option: 1 1/2 pounds strips of boneless streak or chicken breast, sliced
Vegetable Option:
1 sliced green bell pepper
1 sliced red bell pepper
1/2 sliced red onion
1/2 cup sliced baby portobello mushrooms
For assembly:
1/2 cup canola or vegetable oil
6 (8-inch) flour tortillas
Optional toppings: guacamole, shredded cheese, jalapeño peppers, cilantro, salsa, sour cream and queso fresco, a fresh, mild white cheese traditionally made from raw cow or goat milk.
Directions:
In a large bowl, combine two tablespoons oil with the packet of fajita seasoning or the ingredients for homemade seasonings to create a chicken fajita marinade or vegetable fajita marinade. Add the meat or vegetables of your choice.


Stir to coat, cover and place in the fridge to marinate for at least one hour.


In a large skillet on the stove over medium-high heat, heat the remaining two tablespoons of oil and sauté any additional vegetables you may choose, as well as the marinated vegetables or meat.


Cook the meat for at least five minutes to ensure it is cooked through and not undercooked in the center.


Remove from heat, spoon onto the tortillas and top with guacamole, queso fresco, shredded cheese, jalapeños, cilantro, salsa or sour cream as you choose and serve warm.
This easy fajita recipe can be made ahead of time and reheated for quick assembly. Whether you go to the store to pick up pre-made options, like the seasoning package, or you throw together a delicious meal with what's on hand, fajitas require basic ingredients that are likely already in your pantry.
Flavoring and Fajita Toppings
Try adding your own spin to this recipe by adding flavors and seasonings, such as celery salt, lemon pepper or garlic salt. Add a variety of hot peppers to the topping options and to the cooked vegetable medley for a spicy kick. Additional slices of lemon and lime are always handy, whether to squeeze over the cooked filling or to chase tequila shots.