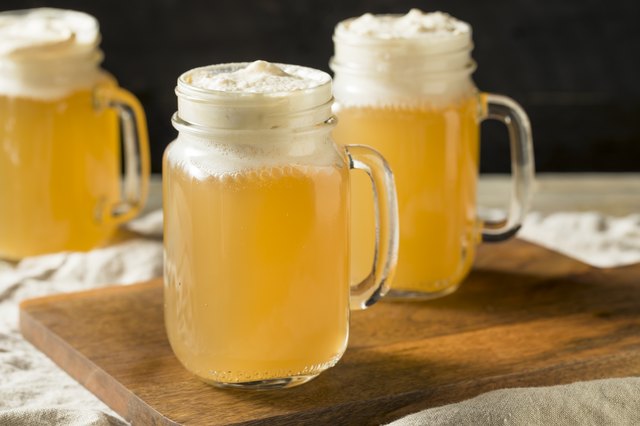 bhofack2/iStock/GettyImages
As the generation that grew up with the Harry Potter books and movies comes of age, and as subsequent generations grow up, there is no doubt that making the famous Harry Potter butterbeer of Hog's Head Inn is high on the list of drinks to prepare.
While Harry and his friends were likely drinking the nonalcoholic variety of butterbeer since the drinking age in England and presumably the Wizarding World is 18, butterbeer can be made with and without alcohol. Whether making butterbeer for a child's party or an adult movie marathon, these butterbeer recipes are delicious and easy to follow and will leave everyone feeling a little magical.
What Is Butterbeer?
There are quite a few recipes for making butterbeer, ranging from very boozy to vanilla and butterscotch ice cream floats, so the ingredients that go into a butterbeer recipe can vary widely. While our recipes call for vanilla cream soda, heavy cream, spices, butter and butterscotch morsels and sauce as well as vanilla vodka, butterscotch schnapps and dark rum for the alcoholic variety, there are plenty of other approaches to butterbeer.
These will simply look the most like the drinks in the movies because the toppings will float. Ingredients in recipes that resemble more of an ice cream float will be muddled together and give a less visually pleasing and less accurate representation of the drinks that appear at Hogsmead's favorite shady pub, Hog's Head Inn.
Non-Alcoholic Butterbeer Recipe
Total Time: 15 minutes | Prep Time: 15 minutes | Serves: 4 drinks
Ingredients:
1/2 cup heavy cream
1/2 teaspoon cinnamon
1/4 teaspoon nutmeg
1/4 teaspoon cloves
1 tablespoon softened butter
2 tablespoons butterscotch sauce
1 cup butterscotch morsels
2 liters vanilla cream soda
Directions
In a small mixing bowl, whisk together the cream, spices, butter and butterscotch sauce for 2 minutes until well combined without any lumps or pockets of spices. The spiced-cream batter should thicken and expand somewhat as air is whipped into the mixture.


Chill the spiced whipped cream in the freezer for 15 minutes to cool while preparing the rest of the drink.


In the microwave, melt the butterscotch morsels for 30 seconds followed by 15 second intervals, stirring between intervals until smooth. Place it in the fridge while assembling the rest of the drink.


Pour the vanilla cream soda into a frosted mug until it is two-thirds filled.


Using a spoon, pour the whipped cream batter over the spoon slowly. It should expand and float on top of the soda.


Remove the melted and cooled butterscotch morsels and spoon on top of the whipped cream. If you prefer, the melted morsels can be poured onto a lined baking sheet and then you can freeze and scrape them to make butterscotch shavings to sprinkle on top instead of a thick drizzle.


To make this drink hot, heat the soda and the spiced whipped cream batter on the stove in separate saucepans over low heat. Heat until warm but do not boil. Fill a preheated mug with the vanilla cream soda and then spoon the spiced whipped cream batter over the cream soda. The topping should still float and leave the cream soda translucent.
Tip
If serving at a child's party, stick to the cold version of this butterbeer recipe to avoid anyone getting burned.


Feel free to drizzle additional butterscotch sauce on top of the whipped cream for an addedsugar and butterscotch burst.
Alcoholic Butterbeer Recipe
This recipe combines a traditional hot-buttered rum recipe with a few additional liquors and liqueurs to achieve the best butterscotch flavor to recreate a boozy version of a butterbeer recipe.
Total Time: 10 minutes | Prep Time: 10 minutes | Serves: 1 drink
Ingredients:
1 tablespoon softened butter
1 teaspoon brown sugar
1/4 teaspoon cinnamon
1/4 teaspoon nutmeg
1/4 teaspoon cloves
1/4 teaspoon vanilla extract
2 ounces dark rum
1 ounce butterscotch schnapps
1 ounce vanilla vodka
6 ounces vanilla cream soda
1 can spray whipped cream
1 tablespoon butterscotch sauce
Directions:
In the bottom of a mug, muddle the butter, sugar, spices and vanilla extract, combining well.


Pour the rum, schnapps and vodka over the muddled mixture and stir to combine.


If serving cold, pour the vanilla cream soda directly into the mug and stir well to mix.


If serving hot, gently heat the cream soda in a saucepan over low heat on the stove.


Heat just enough to warm the soda but do not boil it. Pour into the alcohol and muddled mixture.


Once thoroughly mixed, top with your desired amount of whipped cream and drizzle with butterscotch sauce.