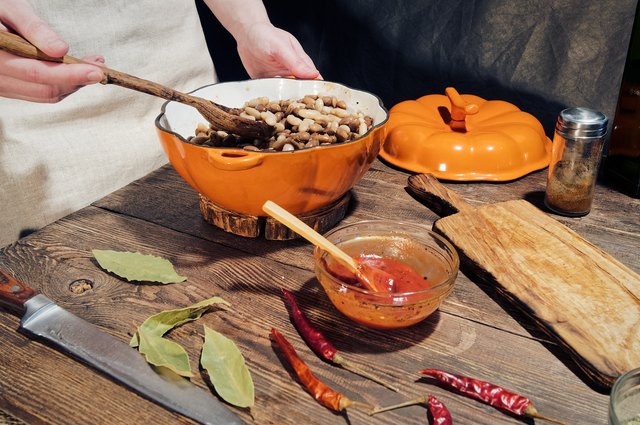 invizbk/iStock/GettyImages
Homemade baked beans go with everything from backyard burgers and hot-off-the-grill flank steak to spiral ham and barbecue baked chicken. They also make an excellent snack, warm or cold, when the munchies hit late at night. But one of the greatest things about a baked beans recipe is that you can mix in several different types of beans, including pork and beans, and lima beans, which makes cooking up this famous side dish a simple task. Just make sure to allow enough time for the slow cooker to do its job because there's nothing better than thick, flavorful homemade baked beans.
Great Baked Beans in a Slow Cooker
Total Time: 3 hours 20 minutes | Prep time: 20 minutes | Serves: 4
Ingredients:
1 (28-ounce) can baked beans

1 (28-ounce) can pork and beans

1 (15-ounce) can lima beans

1/2 cup brown sugar

1 teaspoon mustard

1 teaspoon white vinegar

1 medium-sized sweet onion, diced

Directions:
Before starting your prep work, make sure the slow cooker you're using can hold all of the ingredients. Ideally, you will have 3 to 4 inches of space at the top to allow you to add more ingredients if you decide to increase the volume of the recipe. It also gives you space so the ingredients don't boil over.
Add baked beans to slow cooker. Do not drain the liquid.

Add pork and beans to slow cooker. Do not drain the liquid.

Drain lima beans in a strainer. Transfer from the strainer to the slow cooker and mix.

Add brown sugar to slow cooker.

Add mustard to slow cooker. Can increase the amount to make the mustard flavor stronger.

Add vinegar to slow cooker.

Dice the sweet onion and add to slow cooker.

Mix all ingredients with a large spoon.

Turn the slow cooker to the medium setting. Bring the beans and other ingredients to a boil, stirring frequently.

Reduce the heat to the low setting and cover the slow cooker.

Cook on low heat for three hours. For quicker results, cook on high for 2 hours 15 minutes.

If you like your homemade baked beans sweet, add a touch more brown sugar to the recipe. But if you like your beans to have a mustard flavor, increase the amount of mustard. Make sure to go slow when adding these ingredients. Give the baked beans a good stir and a taste test before adding more brown sugar or mustard.
Tip
The longer you leave the beans cooking in the slow cooker, the thicker the consistency and the more flavorful they will be.
Adding Other Ingredients
When making homemade baked beans in a slow cooker, feel free to add other ingredients when the beans reach their maximum cooking time. For extra flavor or thicker consistency, add cooked meat like bacon, ground beef, pulled pork, small chunks of steak, little smokies or sausage to the beans about 15 minutes prior to serving.
You can also kick up the flavor by adding a couple of tablespoons of barbeque sauce or Worcestershire sauce. For a sweeter batch of homemade baked beans, try adding some chunks of pineapple or pineapple juice to the beans about 10 minutes before serving. You can also add a couple of teaspoons of maple syrup or honey to the mix. A good rule of thumb is to taste as you add.
To make your homemade baked beans into a hearty meal, top your favorite hot dog, hamburger or baked potato with a scoop of beans. You can also serve them cold as a dip with pita pockets or slap the beans between two slices of your favorite toasted bread.