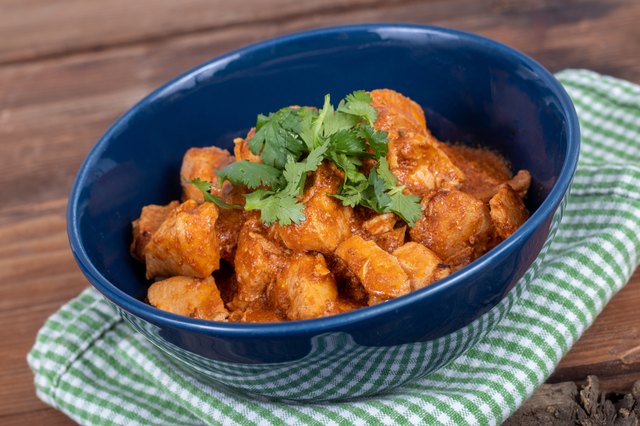 juliedeshaies/iStock/GettyImages
Butter chicken is one of the most popular dishes in Indian cuisine. It is said to have been created in the 20th century in Delhi as a way to extend the life of leftover tandoori chicken. It reportedly all began with Kundan Lal Gujral who is first credited with creating chicken tandoori, which in 1948 led to murgh makhani, or butter chicken. To keep tandoori chicken moist, he added aromatic spices, tomatoes, cream and, of course, butter. But don't get butter chicken confused with chicken tikka masala, a British creation that isn't as creamy and is spicier.
The Beauty of Butter Chicken
It has been said that butter makes food taste better, and that is true. But it isn't just the creamy goodness of butter that makes butter chicken popular – it's the balance of flavors and seasonings, as well. The flavor palette often includes cinnamon, cloves, garam masala and ginger. Butter chicken is now found as a base in dishes like chicken tacos and on top of pizza, much in the same way that rotisserie chicken often is a part of other recipes. Eating foods in nontraditional ways can sometimes lead to a new innovative dish. Just think – we wouldn't have butter chicken were it not for someone being creative.
Delectable Butter Chicken Recipe
Ingredients:
Total Time: 1 hour and 45 minutes | Prep Time: 15 minutes | Serves: 6 to 8
Marinade for Chicken
3/4 cup whole-milk Greek yogurt
6 garlic cloves, peeled and minced
2 tablespoons finely grated ginger
2 teaspoons kosher salt
1/4 teaspoon cayenne
2 pounds boneless, skinless chicken thighs
Sauce:
1/2 cup unsalted butter, divided
1/2 teaspoon ground cinnamon
1/4 teaspoon cardamom
2 medium onions, sliced
2 serrano chilies, split lengthwise
kosher salt
6 garlic cloves, peeled and minced
1 1/2 tablespoons finely grated fresh ginger
1 teaspoon cumin, ground

1 tablespoon garam masala
1 teaspoon smoked paprika
1/2 teaspoon turmeric, ground

1 (28-ounce) can crushed tomatoes
1 tablespoon tomato paste
1/3 cup heavy whipping cream
Steamed basmati rice and naan for serving
Directions:
Marinade
Whisk together yogurt, garlic, ginger, cumin, cayenne and salt in a medium bowl. Using food prep gloves, massage the mixture into the chicken thighs.


Cover and chill at least an hour, but leaving it overnight gives the flavors a chance to meld well.
Sauce
Melt 4 tablespoons of butter in chicken fryer or heavy-bottomed pan over medium heat. Add the cinnamon and cardamom, and stir for three minutes to release the flavors of the seasonings.


Add the onions, chilies and salt. Stir until the onions have caramelized, 10 to 12 minutes.

Add garlic and ginger until the flavors have been released, about three or four minutes.


Add garam masala, paprika and turmeric, stir to meld the flavors and cook for one minute.


Add tomatoes and tomato paste and cook until the sauce has a thick gravy-like consistency.


Taste five minutes before it is finished to add salt to taste.


Add mixture to a blender and puree until creamy. Add the remaining butter into the blender and blend until creamy.


Return sauce to the pot and let it simmer.
Tip
To achieve a creamier sauce, add two tablespoons of butter to the sauce at the end. Make sure the butter melts and is well-blended into the sauce before serving.
Prepare the Chicken
Turn broiler on low. Place chicken on oiled non-stick foil lined baking sheet. Put chicken under broiler and cook each side until it is brown eight to 10 minutes. The chicken will finish cooking in the sauce. Cut chicken into 1/2-inch pieces and add to the simmering sauce. Cover and cook until chicken is cooked throughly, about 10 to 15 minutes.
Serve chicken over basmati rice and with Indian bread, or naan. You can substitute naan with roti, pita or flatbread. You just want something to dip into the sauce.