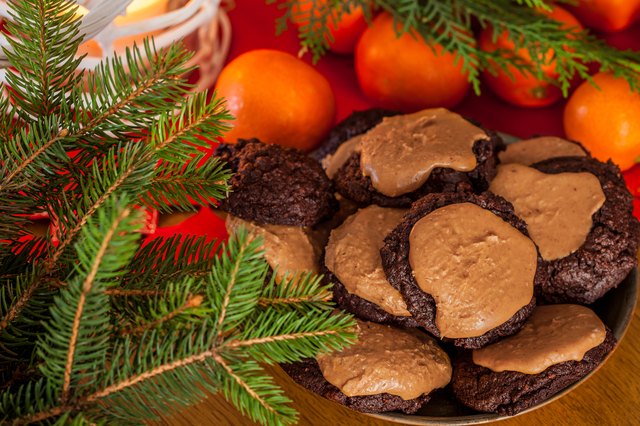 eZeePics Studio/iStock/GettyImages
Whether buckeye candy is a holiday staple, a sweet treat to keep on hand year round or a treat to liven up any time of year, buckeye balls are a classic flavor combination that pleases the taste buds of friends, family and guests alike.
Buckeye recipes are generally straightforward and easy, but a few tips and tricks can help make the process even simpler. With a few tweaks, buckeye balls can be transformed from peanut butter balls to an allergy-safe truffle suitable for anyone. Stick to a classic recipe or give buckeye balls a new twist with roasted nuts on top or by getting creative with substitute ingredients.
Chocolate-Butterscotch Buckeye Recipe
Total Time: 1 hour 20 minutes | Prep Time: 20 minutes | Serves: 45 buckeyes
Ingredients:
1 1/2 cups creamy peanut butter
1/2 cup (1 stick) unsalted butter, softened
1 teaspoon vanilla extract
4 cups confectioner's sugar
1 1/2 cups milk chocolate chip morsels
1 1/2 cups butterscotch morsels
Directions:
In a large mixing bowl, stir together the peanut butter, butter, vanilla and confectioner's sugar to form a crumbly dough.


Roll the rough dough into 1-inch peanut butter balls, place them on a wax-paper-lined baking sheet and set it in the freezer for at least half an hour.


Pour the chocolate and butterscotch into a medium bowl placed inside of a larger bowl with simmering water inside. Melt the chocolate and butterscotch until it is smooth and glossy, continuously stirring.


Remove the chocolate and butterscotch from the heat and pour it into a glass or small bowl with enough depth for dipping.


Using a toothpick or fork, insert it into the frozen peanut butter balls and then dip them into the melted chocolate, leaving a small circle of exposed peanut butter at the top.


Place the dipped buckeye candy back onto the wax-paper-lined baking sheet. Once all of the buckeyes are dipped, place them back in the freezer for at least another half hour or until the chocolate is set and firm.


Store at room temperature in an airtight container.
Tip
If the peanut butter balls begin to get warm as you are dipping, place them back in the freezer for 10 to 15 minutes to allow them to harden again. This will make dipping the buckeye candy much cleaner and easier.
Buckeye Candy Tips
While buckeye candy is almost always peanut butter balls dipped in chocolate, there are a few additions and substitutes that can be implemented. Some changes are useful to those with allergies and others improve the texture of the peanut butter dough filling. With a few tips and tricks, you can elevate your buckeye candy while making it safe for all.
Improving the Filling
To make the dough easier to stir together, heat the peanut butter for about 15 seconds. This will make the peanut butter easier to mix with a spoon because it releases some of the oil but not so much that the dough will be too wet to form into balls. Some people prefer to mix in one package of softened cream cheese at this stage too, which helps make the filling ultra smooth, like that of a chocolate truffle.
Nut-Free Buckeye Balls
Peanuts are responsible for one of the most common allergies these days. With a simple ingredient swap, buckeye candy can be made into an allergy-sensitive sweet treat. For those who are allergic to peanuts and therefore peanut butter, simply swap out the peanut butter for sunflower butter or tahini.
Sunflower butter is clearly made from sunflower seeds, while tahini is made from sesame seeds. Both of these alternatives do not have the same added sugar that peanut butter often has, so be sure to taste test your mixture and add or adjust sugar as needed.