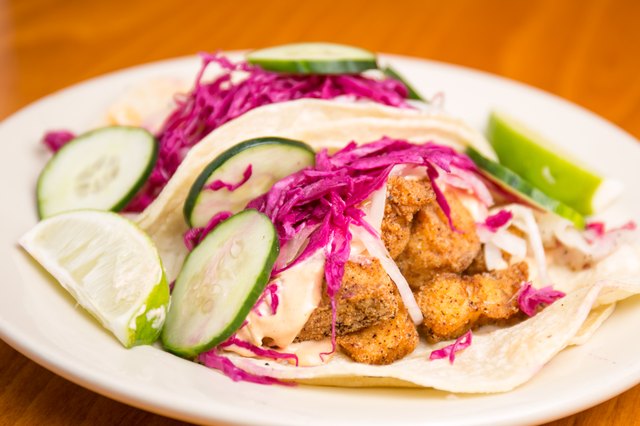 Angela Cook/iStock/GettyImages
Whether it's summertime right now, or just in your heart, cooking up a fresh batch of fish tacos is one of the greatest ways to get the taste of summer in a nutritious and delicious way. Simple to prepare and easy to master, this fish taco recipe will become a staple of your weeknight mealtimes. Unfortunately, fish doesn't stay fresh for long, but with a recipe this good you aren't likely to have leftovers.
What Makes a Good Fish Taco Recipe?
Mastering a good fish taco recipe is all about understanding that the most important part of the recipe is getting the fish perfectly cooked without drying out or burning it. All of the other elements of the fish taco -- the fish taco slaw, the fish taco sauce, the toppings -- are secondary to the perfectly cooked fish.
So what is the perfect fish taco fish? Something light and flaky. Many people love to make cod fish tacos, while others prefer tilapia tacos. Whatever you choose, make sure it's a light and flaky whitefish and that you're prepared to cook it with total attention from the time you set it on the heat until the time you take it off to serve.
Once you've finished cooking the fish, you just need to warm the tortillas and add the toppings and sauces of your choice in order to make it taste exactly the way you like it. Don't forget to add a squeeze of lime.
Fish Taco Ingredients:
24 small white corn tortillas
1 1/2 pounds tilapia
1/2 teaspoon ground cumin
1/2 teaspoon cayenne pepper
1 teaspoon salt
1/4 teaspoon black pepper
1 tablespoon olive oil
1 tablespoon butter
Fish Taco Sauce Ingredients:
1/2 cup sour cream
1/3 cup mayo
2 tablespoons lime juice from 1 medium lime
1 teaspoon garlic powder
1 teaspoon Sriracha sauce, or to taste
Fish Taco Toppings:
1/2 small purple cabbage
2 medium avocados, sliced
2 Roma tomatoes, diced (optional)
1/2 red onion, diced

1/2 bunch cilantro, longer stems removed
1 cup Mexican cotija cheese, grated
1 lime cut into 8 wedges to serve
How to Cook Cod Fish Tacos
Whether you've settled on tilapia, cod or some other variety of fish, you want to make sure you get a crispy, golden brown exterior. This is what makes a fish taco truly delicious. Most restaurants use a deep fryer to achieve this, but you can get the same crispy texture at home without deep frying. This is healthier for you and also won't leave your kitchen smelling like a deep fryer.
Directions:
Begin by seasoning the fish fillets with salt and pepper.


Dip the fillets in a breading mixture you make with flour, spices and panko-style breadcrumbs. These are lighter than traditional breadcrumbs and will give you the airy texture you want.

Heat the oil in the pan.


As the oil heats, watch for rippling in the pan.

Once you see the oil rippling, drop in the fillets and press down hard on the top surface with a spatula making sure to push the bottom of the fillet into the pan firmly so it sticks to the pan, before flipping and cooking on the other side the same way.

Heat the tortillas in a warm pan or in the microwave.

Top the tortillas with a portion of the fish, some of the sauce and any additional toppings you would like.

Tip
If you use more than one tortilla per taco, you can get away with adding more sauce and more toppings without tearing the tortilla.