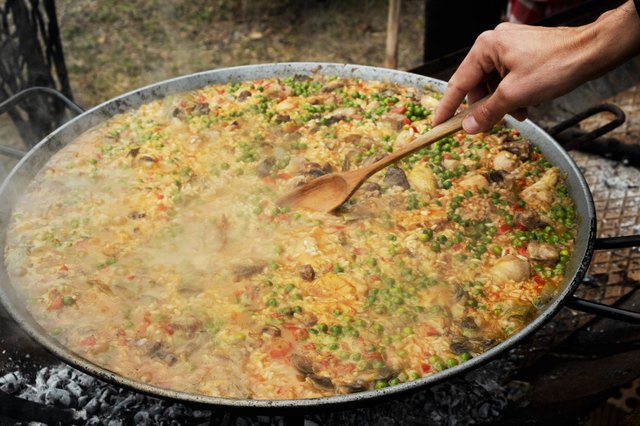 nito100/iStock/GettyImages
The undisputed home of the much-loved dish, paella, is Valencia on the Eastern coast of Spain.The area has produced rice since it was introduced by the Moors over 1,200 years ago. This once humble meal was eaten by the farmers and laborers for their lunch. The ingredients would vary depending on what was available to the workers. Ingredients included tomatoes, onions, rabbit, duck, snails, chicken or beans and eventually, seafood. Over time, the meal became widely available, sparking variations and making paella a generic term used to describe rice dishes throughout Valencia, as well as other regions in Spain.
Best Methods for Cooking Paella
An open fire, like a charcoal barbecue, is good for making paella, but you can also use a gas paella burner. Round dome-style BBQ grills help to keep the heat even. A traditional paella pan, or Paellera, is a must. This is a large, flat, open and round pan with handles on two sides. As you start cooking. the heat should be on high to brown the meat, then lowered to simmer the rice.
Tip
Choose a medium grain rice such as Valencia or Bomba, which are capable of absorbing a large amount of liquid. This is important when making paella.
Traditional Paella Recipes
The original version of paella in Valencia included chicken, rabbit, snails and three kinds of beans. Over time, the original recipe has been tweaked and changed based on taste and availability of food. Surprisingly, the name of the dish isn't related to its ingredients, but rather to the pan in which it is cooked.
Spanish Paella Recipe
Total Time: 2 hours | Cook Time: 1 hour 10 minutes | Servings: 4 to 6
Ingredients:
2 pounds chicken thighs, cut in half
4 tablespoons canola oil or enough to coat the bottom of the pan
kosher salt and freshly ground black pepper
4 cups chicken stock
1 pinch saffron
1 large Spanish onion, finely chopped
4 cloves garlic, finely chopped
1 pound Spanish chorizo or other spicy smoked sausage, cut into 1/2-inch-thick slices
1/2 red bell pepper, seeded and chopped
1/2 medium tomato, finely chopped
2 cups Bomba or Valencia rice
1 teaspoon Spanish sweet paprika (pimenton )
8 large shrimps or prawns, tails on, peeled and deveined
4 piquillo peppers, cut into strips
1 cup frozen peas, thawed
8 ounces canned Roman beans or other white beans, drained and rinsed
1 pound mussels, scrubbed and debearded
1/2 cup chopped fresh flat-leaf parsley

lemon wedges for garnish
Directions:
In a medium saucepan, bring stock to a simmer. Crush saffron and add it to the stock. Heat paella pan over medium heat, add canola oil and cook chicken until it browns. Next add onions and garlic and saute until translucent.



Add chorizo and cook until heated, five minutes.

Stir in red pepper and tomato. Mix in the rice, stirring until well-coated with oil. Thoroughly mix in paprika. Cook for three minutes.

3. Add stock and bring to a boil.

Cook until rice has absorbed most of the liquid, 10 to 12 minutes. Add the piquillo peppers, peas and beans.



4. Add mussels and nestle in-hinge side down. Cook five minutes. Discard any shellfish that don't open.

5. Add shrimp or prawns and tuck into the rice, five to seven minutes or until shrimp is cooked.

6. Remove pan from heat, cover with aluminum foil and let rest for 10 minutes before serving.

Scatter the parsley over the top and garnish with lemon wedges. Serve.