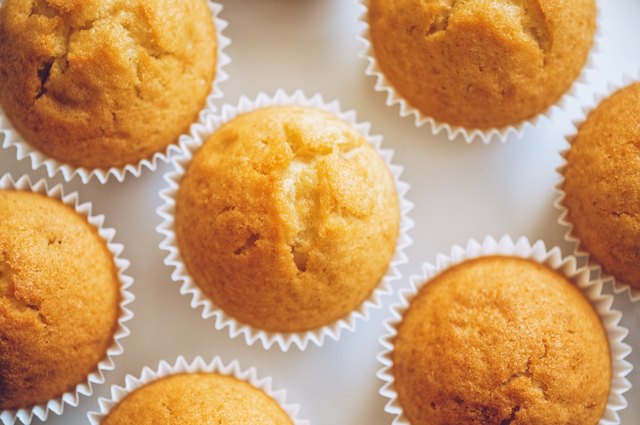 Xsandra/iStock/GettyImages
Homemade cupcakes are a classic for a reason: Everyone loves them. Cupcakes are wonderful desserts for large groups because they are perfectly portioned for individuals, travel well and are easy to make in large batches by the dozen. A go-to, no-fail vanilla cupcake recipe can become a staple for both the crowd-pleasing flavor and as a base for more elaborate flavor combinations. Get creative once you perfect the perennial favorite.
Vanilla Cupcake Recipe
Total Time: 45 minutes | Prep Time: 15 minutes | Serves: 24 cupcakes
Ingredients:
2 1/2 cups all-purpose flour or Cup4Cup gluten-free flour
18 tablespoons (1 1/2 sticks) unsalted butter, softened
1 1/2 cups white granulated sugar
2 1/2 teaspoons baking powder
1/2 teaspoon salt
2 eggs
2 1/2 teaspoons vanilla extract
1 1/4 cups cold whole milk
Seeds of one vanilla bean pod (optional)
Directions:
Heat oven to 375 degrees Fahrenheit.


Grease two muffin tins and fill with cupcake liners.


In a large mixing bowl, add the butter and beat until smooth.


Add the sugar, and cream together with the butter on medium speed.


Add the eggs one at a time and beat until each one is well-incorporated before adding the next.


Add the vanilla, vanilla bean seeds if using, baking powder, flour, salt and milk.


Beat until the mixture is a consistent texture that ribbons when you lift the beater from the bowl. Use a spoon to check that there are no pockets of dry ingredients at the bottom of the mixing bowl.


Use an ice cream spoon or a ladle to fill each lined muffin tin. This ensures the same amount is added to each cup and that the cupcakes will bake evenly.


Bake for 20 to 25 minutes or until the tops of the cupcakes just begin to brown. A toothpick should come out clean if inserted.


Remove from the oven and allow to cool on a wire rack.


Once completely cool, top with frosting.
Adding the seeds from a fresh vanilla bean pod really kicks the vanilla flavor up a notch and makes these cupcakes beautifully speckled with the black seeds. A small dash – up to half a teaspoon – of almond extract also helps to enhance the vanilla flavor of the cupcake.
Tips for Homemade Cupcakes
Moistness: The key to really tasty cupcakes is that they must contain enough moisture. While mayonnaise is a common substitute for eggs in chocolate cupcake recipes and really adds moisture to the cupcake, the flavor is too strong to use in vanilla cupcakes. Instead, try adding a few tablespoons of neutral-flavored oils, such as canola or vegetable oil, to keep the cake moist.
Uniformity: For perfect cupcakes, utilize the ice cream scoop method of filling the baking tins. A regular-sized ice cream scoop ensures that the same amount is deposited in each cup. This not only helps the cupcakes cook through evenly, but also helps to prevent the cupcakes from spilling over, giving them a uniform and professional appearance.
Unsalted butter: Finally, be sure to use unsalted butter when baking homemade cupcakes or any baked good for that matter. The reason for this is that there are different quantities of salt in different brands and types of salted butter whether American, English, French or another style. Using unsalted butter in baking and other types of cooking allows you to control the amount of salt in the food. Salt is great for bringing out sweetness, but salted butters are best for bread where the quality can be appreciated.