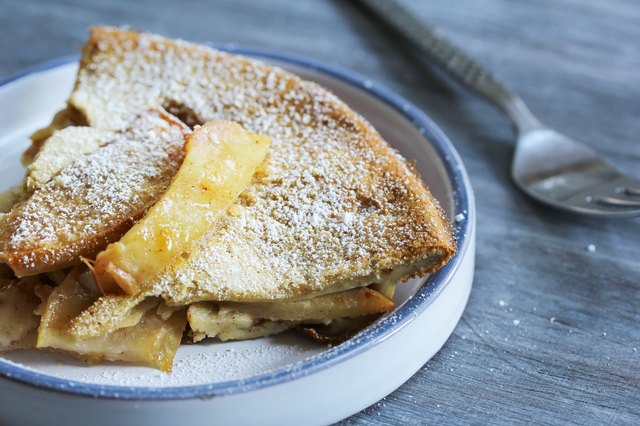 vm2002/iStock/GettyImages
While popovers can often be found split and served with roast beef and gravy instead of over rice in New England, popovers are an incredibly versatile bread. Though popovers rise much higher than normal yeast bread rolls thanks to the popover pan, this unusual-looking bread roll can be adapted to be savory or sweet. Use a basic popover recipe and substitute whatever flavors or fillings you prefer with a few tweaks. Whether you choose to make a dark chocolate and orange popover, or a chive and sour cream popover, the flavor combinations and options to choose from are endless.
Brown Butter Sage Popover Recipe
Total Time: 45 minutes | Prep Time: 10 minutes | Serves: 6 large popovers
Ingredients:
4 large eggs
1 1/2 cups all-purpose flour
1 1/2 cups whole milk, room temperature
1 teaspoon salt
8 tablespoons (1 stick) unsalted butter
1/4 cup sage leaves
Directions:
Whether at room temperature or cold, place the eggs in a pot of hot water for 10 minutes before starting.


Move the top rack of your oven to one of the lower racks, and heat the oven to 450 degrees Fahrenheit. Place the popover pan on the lower shelf.


In a medium sauce pan over medium heat on the stove top, melt the butter with the sage leaves placed on top.


Cook until it bubbles and turns a golden brown. Remove from the heat to cool slightly.


In a large bowl, whisk the room-temperature milk and the warmed eggs together until frothy and bubbly.


Next use a whisk to stir the flour, salt and room-temperature sage butter into the egg mixture by hand, which will keep the mixture light and airy.


Continue to whisk until the eggs, milk, flour, salt and browned sage butter are the consistency of heavy whipping cream or until the mixture is thick enough to coat the back of a spoon. Some lumps should remain.


Remove the popover pan from the oven and spray with a nonstick oil cooking spray.


Use a spoon to fill each popover cup about two-thirds full. If using a muffin pan, fill halfway and only use the outer cups for best results.


Bake for 20 minutes, but do not open the oven door at all for the first 30 minutes to keep the popovers from falling.


Reduce the temperature to 350 F and bake another 20 minutes.


Once golden brown, remove from the oven and serve warm.
This recipe is quite adaptable, so feel free to reduce the amount of butter to 3 or 4 tablespoons and flavor with other herbs like thyme or rosemary.
Tip
If you're making sweet popovers, add at least a half cup of sugar in addition to your choice of flavoring ingredients, such as chocolate or cherries.
Popovers Without a Popover Pan
While it is best and easiest to use a popover pan, it is certainly possible to make popovers without this bread-specific pan. Popover pans simply allow the bread to rise tall with a long, formed base rather than for the majority of the popover rise to spill over at the top of the muffin-shaped bread. If using a muffin tin, do not fill the cups more than halfway, or the popovers will spill over too much and burn. Remember to use the cups only on the outside edges of the muffin tin to both give the bread room to expand and for the best airflow during baking.
Though difficult, it is possible to create a makeshift popover pan by creating tall cups within a muffin tin using several layers of aluminum foil. If using this approach, keep in mind the sides of the popover base will only be as smooth as the aluminum foil cups, all of which should be the same height. There should be at least four layers of aluminum foil supporting the cup to ensure that the batter can properly rise and not bend the foil.