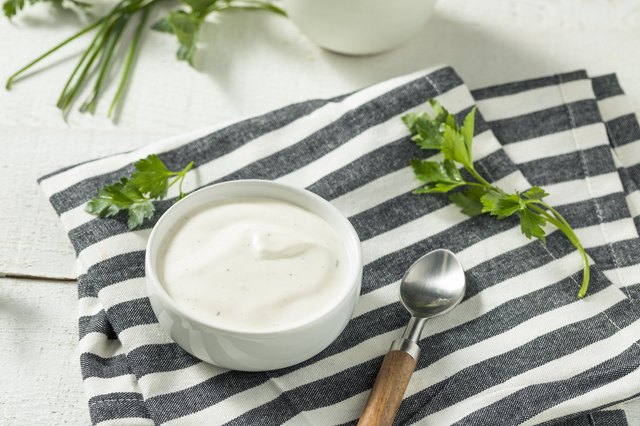 bhofack2/iStock/GettyImages
Learning how to make homemade ranch dressing will be a welcome change to your salad dressing routine. If you have the key ranch dressing ingredients and spices, the rest is quite simple because all you have to do is mix everything together. The resulting salad dressing melds the distinct creamy and tangy flavors that ranch dressing is known for and loved.

Use an easy, traditional ranch dressing recipe that allows for the creaminess from the sour cream, mayonnaise and buttermilk to be enhanced by the addition of freshly squeezed lemon juice and complementary dried spices, including garlic and onion. The ratio of ranch dressing ingredients can always be adjusted according to your tastes by simple substitutions, like using fresh herbs and spices in place of dried.
Ranch Salad Dressing Seasoning Ingredients
A classic ranch dressing recipe is nothing without its dried herbs and spices. The original salad dressing, which was created in the 1950s by Hidden Valley Ranch, consists of dried chives, parsley, dill, onion powder, garlic powder, salt and black pepper. While Hidden Valley Ranch now sells packets of their famed dry seasoning, it's not difficult to make the dressing yourself at home, which is undoubtedly cheaper to make and store for future use.
Ranch Salad Dressing Seasoning Mix Recipe
Total Time: 5 minutes | Prep Time: 5 minutes | Serves: 2 cups
Ingredients:
1/2 teaspoon dried dill
1/2 teaspoon dried parsley
3/4 teaspoon dried chives
1/2 tablespoon onion powder
1/2 teaspoon garlic powder
1/2 teaspoon sea salt
1/8 teaspoon ground black pepper
Directions:
Whisk all the ingredients together in a small bowl.


Transfer and store in an airtight container; it will keep for a long time just like any other spice mixture.
Tip
For an added kick, 1/8 teaspoon of mustard powder can also be added to the dry seasoning mix.
Classic Ranch Dressing Recipe
Total Time: 10 minutes | Prep Time: 5 minutes | Serves: 1 1/2 cups
Ingredients:
1/2 cup mayonnaise
1/2 cup sour cream
1/2 cup buttermilk
1 tablespoon ranch seasoning mix
2 teaspoons lemon juice, freshly squeezed
Directions:
Whisk together the mayonnaise, sour cream and buttermilk in a medium-sized bowl until well incorporated.


Add in the ranch seasoning mix. Stir to combine.


Pour in the freshly squeezed lemon juice. Whisk to mix before tasting, then adjust the seasonings as needed.


Serve immediately or transfer to an airtight jar and refrigerate. This ranch dressing recipe keeps well for up to a week in the fridge.
Tip
Apple cider vinegar also works well to develop the dressing's signature tangy taste if you don't have lemon juice on hand.
Variations for Your Homemade Ranch Dressing
Depending on your palate, your homemade ranch dressing can be thickened by using either arrowroot or cornstarch, or halving the amount of buttermilk in the recipe. This turns it into a ranch dip (rather than a dressing) that's also popular in American households. Use this thickened version, which doesn't need to be heated, as a dip for crudités, tortilla chips, tater tots and more.
A vegan version of ranch dressing can be made by substituting regular mayonnaise and sour cream for vegan versions, as well as using nondairy milk, like almond or cashew milk, for a creamier feel.