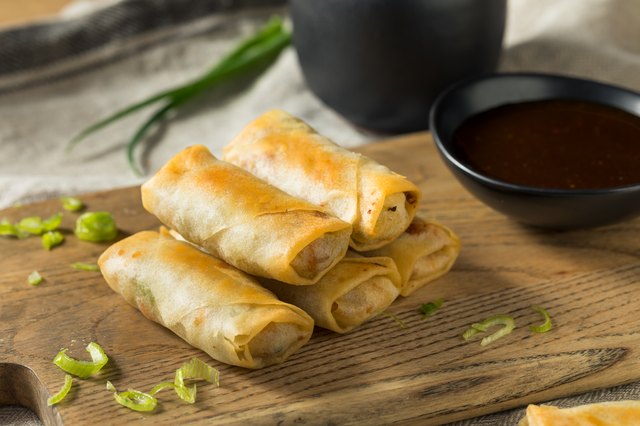 bhofack2/iStock/GettyImages
If you have ever dined at an American Chinese restaurant, then you have probably encountered an egg roll. They are small, cylindrical, stuffed Chinese pastries that are normally served as an appetizer. Homemade egg rolls are made with wheat flour pastry wrappers that are folded with a filling of minced meat and/or shredded vegetables, usually cabbage and carrots.
Most places will deep fry them, but sometimes you can find them steamed. The wrappers can be found premade in the refrigerated section in Asian markets and most supermarkets. Similarly, there are spring rolls, which are a smaller version of an egg roll. Traditionally, spring rolls are served the first day (during the spring) of the Chinese new year.
The Journey of the Egg Roll
While the origin of the egg roll is up for some debate, it has been linked to spring rolls that were served in mainland China. The first reported reference was said to have appeared in a cookbook that was published in 1917. The original recipe, which described meat and vegetables wrapped in egg and pan fried, bears no resemblance to the modern-day version.
Egg rolls do not normally contain eggs within the filling, though the wrapper can. So, why is it called an egg roll? There isn't a real theory as to why.
One of the first iterations of the egg roll in American culture was in a 1938 book, "Cook at Home in Chinese." The recipe is said to have included roast pork, shrimp, green onions, water chestnuts, MSG, salt and pepper. Notably, cabbage was missing from that earlier recipe, though now it is usually the base of the modern-day egg roll.
Are Spring Rolls the Same as Egg Rolls?
Egg rolls tend to be made with wheat flour, while spring rolls are made with rice flour. They are usually smaller than egg rolls and contain no meat. Spring rolls tend to be lighter and crisper, and in addition to being served in Chinese restaurants, they can also be found in Thai and Vietnamese eateries, where they are made similarly. They can be enjoyed with the same dipping sauces that are used with egg rolls.
Easy-to-Make Egg Roll Recipe
Total Time: 1 hour and 10 minutes | Prep Time: 1 hour | Serves: 12
Ingredients:
10 shrimp, cooked and minced
1 large white cabbage, blanched, squeezed dry in a dish towel
½ cup chopped green onions
1 tablespoon sugar
2 teaspoons salt
½ teaspoon freshly ground pepper
1 inch fresh ginger, grated

½ cup bean sprouts
12 egg roll wrappers
1 egg, beaten in a small bowl
3 cups vegetable oil

Directions:
In a very large bowl, combine the shrimp, cabbage, onions, sugar, salt, pepper, ginger and bean sprouts. Mix until all ingredients are thoroughly combined.


Arrange a wrapper like a diamond. Place ¼ cup of filling near the bottom corner, leaving about 1 inch of the wrapper on either side. Fold the bottom corner over the filling, roll up half and then fold the sides over for a snug fit. Coat the top corner of the wrapper with some egg wash and then seal until closed.


In a heavy, deep skillet or a wok, heat the oil to 325 degrees Fahrenheit. Fry the rolls in batches until they are golden brown all over.


Drain them on paper towels and serve them while warm with plum sauce and/or hot mustard.