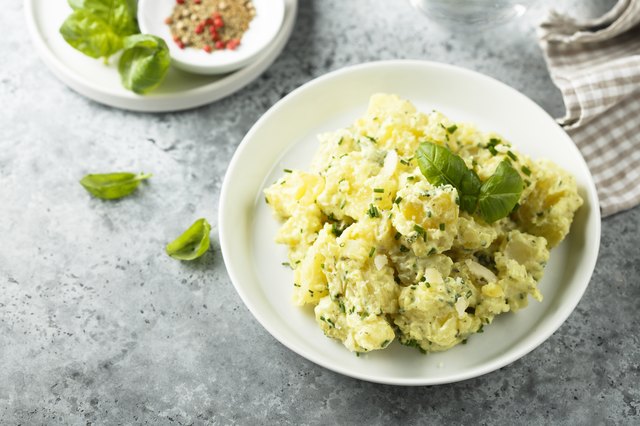 Mariha-kitchen/iStock/GettyImages
Nothing goes better with lounging in a park, soaking up the summer sun and cracking open a cold one like a plate of homemade potato salad. It's the staple dish of picnics, warm-weather socials and amazing next-day leftovers. The best part? It's completely versatile and goes with just about anything, so there's no fear of recipe clashing if you are bringing it to big-group events.
Most people have the ingredients needed to whip up a great potato salad lying around the house already, so not only is it food that's guaranteed to please, but the maintenance time is next to nothing. Since no one wants to spend precious summer free time laboring over complicated dishes for a group of people, it only makes sense to maximize time, budget and flavor with a simple potato salad recipe. Want to impress at your next barbecue and still spend the morning relaxing? This quick, easy and healthy recipe will do the trick.
Potato Salad Recipe
Total Time: 90 minutes | Prep Time: 10 minutes | Serves: 4-6
Ingredients:
6 medium yellow or red potatoes, cubed

1 cup plain Greek yogurt

1/2 cup mayonnaise

4-6 spring onions, diced

2 tablespoons chives, chopped
2 tablespoons dill, chopped
Salt and ground black pepper to taste
Directions:
In a large pan over high heat, boil the potatoes in salted water until soft, about 5 to 10 minutes. The potatoes should already be cut into cubes rather than whole, as they will fall apart easier if you attempt to slice them once they've been cooked. Once tender enough (if you can slide a fork straight through, they're ready), strain the potatoes, put them in a large bowl and refrigerate for roughly half an hour or until the potatoes have fully cooled down.


In a small mixing bowl, mix together the Greek yogurt and mayonnaise. Many traditional recipes call for mayonnaise only, but substituting at least half of the normal mayonnaise with plain Greek yogurt will make the dish much lighter without skimping on taste quality. In this case, it is imperative that you choose plain Greek yogurt rather than vanilla so the finished product doesn't wind up tasting like dessert.


Fold the spring onions, chives and dill into the yogurt and mayonnaise mix. Add salt and ground pepper to taste.


Transfer the cooled potatoes into a large serving dish and stir in the mayo, yogurt, vegetable and spice mixture. Add Greek yogurt as necessary for your desired creaminess. Garnish with spring onions and chives as desired.


Cover the mixture and refrigerate for another 30 to 60 minutes. A good rule of thumb for knowing how long potato salad will keep in the fridge is how long you've left it out after it has been made. If potato salad is packaged up and stored in the refrigerator immediately after preparation, it is good in the fridge for between 3 and 4 days. If it has been out of the fridge for more than 2 hours following preparation, it will last in the fridge for no more than 1 or 2 days. It is optimally served lakeside with a cold, fizzy beer.
Tip
For mustard potato salad, add 1/2 teaspoon of mustard powder to the mixture and stir in thoroughly.