Welcome to Beauty Brief — where we take a deep-dive into the industry's top-rated skincare, makeup and haircare brands. We test them out exclusively for 30 days, learn from the founders and formulators, and let you know our 100% honest opinion. 👋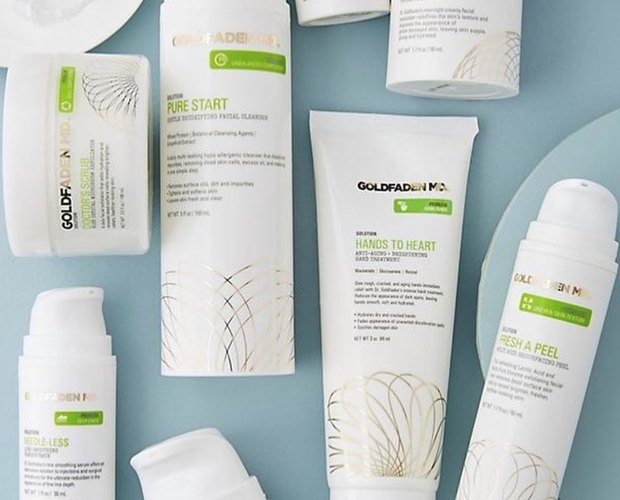 I was first introduced to Goldfaden MD from the gift bag at last year's goop Wellness Summit, it included one of the cult-favorites, the Facial Detox Mask. I became obsessed very quickly. It stopped blemishes at the first sign of formation, didn't dry out my skin, helped heal any activity that was already on my face, and best of all, it's only a 10 minute mask!!! It's full of Zinc Oxide, Sulfur and Camphor, which is all really soothing and great for pores. It pretty much hit every target of what I was looking for in a detox mask, so I had to explore further.
Goldfaden MD was founded by Dr. Gary Goldfaden, who has been a dermatologist for over 40 years and has a personal passion for wellness and health, aside from skincare. He developed the brand to create physician strength results, similar to that from in-office procedures, straight from all-natural and organic ingredients like active plant cells and antioxidant rich botanicals. Think: Arnica Tincture, Apricot Kernel Oil, Ruby Crystals, Co-Enzyme Q10 and Gooseberry Extract, to name a few.
Now, you already know I'm a huge fan of the Facial Detox Mask ($65, Goldfaden MD)... which is also incredible after flying, but I got to try a few other products that MUST be recognized.
Doctor's Scrub Advanced
This advanced scrub is a notch above the O.G. Doctor's Scrub, it's an exfoliator made from ruby crystals, organic red tea extract complex, seaweed extract and moisturizing hyaluronic acid. There's a lot of conversation around chemical vs. physical exfoliation, but the texture of this scrub is so fine and delicate, it's not abrasive to the skin at all. (Just make sure you're being gentle while using physical exfoliators!) I've been using it once or twice per week, particularly on nights that I'm wearing a lot of makeup or a day that I'm consistently reapplying sunscreen. It makes me feel squeaky clean and I think it's helped lighten some old acne scars, too. It's definitely more expensive than other scrubs, but aside from the impressive ingredient list, you only need a tiny, tiny amount... it'll last forever! ($98, Goldfaden MD)
Needle-Less Serum
The name says it all. It's a non-invasive solution to smooth fine lines, increase skin suppleness and elasticity. It's full of pure hyaluronic acid, hexapeptides and seaweed extract, it's ~amazing~ to use before makeup. My skin immediately feels nourished, I'm prone to dehydration so this has been a life-saver for that. I've had no dry patches or irritation at ALL since using it. I can't speak to the reduction of fine lines just yet, but the ingredients are clinically proven to slow down the aging process so I'm ready 🏆. ($115, Goldfaden MD)
Brightening Elixir
While I was on my journey to heal acne, I realized that the star (for me) in clearing my skin was ANTIOXIDANTS. Acids and AHA's and BHA's are great, but our skin craves antioxidants and there are so many benefits. This serum features Vitamin C, Ferulic Acid, Vitamin B (B3 and B5!) and Vitamin E. It's super moisturizing and honestly, brightening. I put this on in the morning before my moisturizer, and I get so many compliments that my skin is glowy. No joke. The combination of this elixir and the doctor's scrub has helped lighten my acne scars, and I'm looking forward to continued use to see if they go away for good. I also love this serum because it helps protect skin against environmental damage, which is really important for anyone who lives in a city. ($80, Goldfaden MD)
You might also like: The Best Skincare Tips To Help Prevent Premature Aging