Have the munchies in the middle of the day? You're not alone. It's super common to get hungry (and hangry, at times) in the midst of the workday, whether it's from the hours sitting behind a desk, boredom, or stress. And, if the meals you're eating, especially lunch, aren't filling you up, you'll be more prone to snacking later in the day.
Yet, there's no shame in needing a snack if you're hungry. In fact, you should eat something to keep your metabolism up, as long as it's been some time after a meal and you're eating out of pure hunger.
Here are the best snacks to grab, according to RDs. These snacks will satisfy your hunger and cravings, filling you up without filling you out.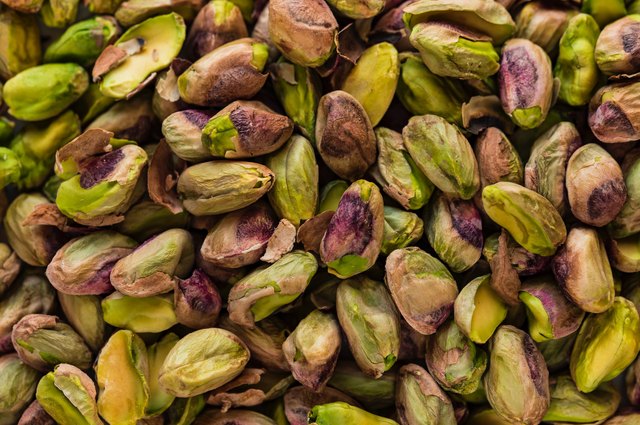 Pistachios
"Pistachios are my favorite mid-afternoon snack. You get 49 pistachios with 6 grams of plant-based protein for only 160 calories," says Lauren Harris-Pincus, MS, RDN, author of The Protein-Packed Breakfast Club. Plus, pistachios are a source of health-boosting antioxidants and good fats to help keep you satisfied.
"The bonus is that pistachios in the shell take longer to eat," she adds, so be sure to buy an unsalted variety that you can take your time to savor. Of course, if pistachios aren't you favorite, any other nuts or nut butters will do. Consider almond, peanut, and walnuts, all containing healthy fats and protein.
Roasted Broad Beans
"Roasted broad beans are my other favorite munchies. A 1-ounce serving contains only 100 calories with 7 grams of plant-based protein and 5 grams of filling fiber," she says. There are many flavors to choose from, and they are certified vegan and gluten-free, as well. Feel free to play with spices and munch on them freely.
Roasted Chickpeas
It's not just broad beans that make a great high-fiber, high-protein, and crunchy snack. Chickpeas are also a go-to in the day and can be made easily with fresh seasonings at home. Try turmeric and coconut for spice or salt and pepper for something simple.
"I'm a big fan of roasted beans in any form, whether chickpeas, soybeans, or broad beans. They provide protein, fiber, and a bit of fat for fullness, plus a crunchy texture and slightly salty taste for satisfaction," says Kelly R. Jones MS, RD, CSSD, LDN.
Instant Oatmeal
"Instant oatmeal can be a great snack at the office since most people have access to a microwave or hot water," says Jones. There are some brands that come in single serve containers versus packets now, which is great for convenient and portion size, too.
And, many contain other wholesome ingredients, like seeds and quinoa, to boost the protein and fiber content, she says. "Both are important for feeling full and keeping blood sugar from spiking," she explains.
Ed's note: Avoid added sugar in instant oatmeal, especially artificial! We love Purely Elizabeth's Vibrant Oat Cups.