If hearing all about vegan foods and delicious plant-based recipes like this Chipotle Cream Sauce has spiked your curiosity lately, you aren't the only one. Eating plant based is taking the world by storm and even the most carnivorous of people are taking notice and adding #MeatlessMonday to their weekly meal rotation. If you've been wondering what pantry items you might need or what substitutes work best, then look no further than this list of veteran vegans who are cooking up all the plant goodness in their kitchens and are amazing resources for any questions you might have.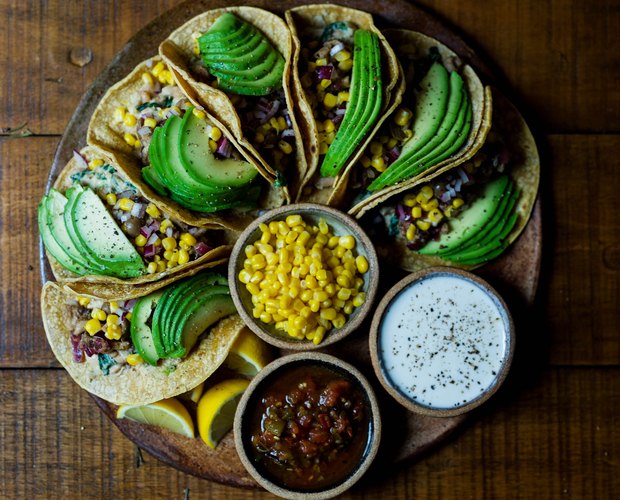 Vegan Comfort Classics
This is an amazing new cookbook by Lauren Toyota—the queen of comfort plant-based food and face behind the incredible vegan blog, Hot for Food. Lauren makes eating plant based seem easy and like anyone can do it. And when things feel relatable, it's so much less intimidating to give them a try. In her book, you'll find all the delicious recipes you know and love like nachos, creamy aiolis and hearty sandwiches that look like they must have meat, but don't! This is definitely a great place to start if you're brand new to the plant-based arena.
Plenty Vegan
Plenty Vegan basically offers a starter kit on shifting to a plant-based diet. If going to the grocery store feels like a massive undertaking, this website should help relieve some of that pressure. You'll find lists of vegan pantry staples and, of course, plenty of recipes as well. It's important to remember though, just because something is labeled "vegan" at the grocery store, does not automatically mean it's healthy. Oreos, for example, are actually vegan! Try to keep your grocery list focused on whole foods like fruits, veggies and complex carbs and you'll be good to go. Take a look at the list now.
Everyday Cooking
I can't write an article about my go-to favorite plant-based resources and not mention "Everyday Cooking" by Minimalist Baker, aka Dana Shultz. This is the first place I went for plant-based food ideas and it has remained one of my favorites because all the recipes shared are either ready in 30 minutes or less, only require one bowl or can be made with 10 ingredients or less. What's better than that? It helps keep the kitchen less of a disaster and the recipes are very approachable to the novice plant-based eater. I highly recommend this biscuit recipe.
Fork Over Knives
This resource is slightly different than the others in that it's a documentary that speaks more to the science behind eating a plant-based diet. The information it presents is definitely up for interpretation, but I think it's good to watch and to try to understand what leads some people to making a change like this to their diets. Take a look.
Looking for some plant-based recipes to get started right now? Try this Vegan Avocado Chocolate Mousse or Spaghetti Squash with Roasted Tomatoes.