If you're looking to eat well but are anxious about your finances (healthy foods can be expensive!), don't worry: there are plenty of money-saving tips that'll still allow you to eat a nutritious diet.
Between choosing the right store, meal planning, and knowing which products to choose from, it's easy to walk away without an astronomical bill. Plus, you'll likely find yourself able to create several meals that can last for a few days, meaning you'll need less frequent trips to the store, too.
Here are a few tips for making the most of your grocery trip, without putting a dent in your wallet.
Cook in Bulk
"Whenever you can, prepare at least 3-4 additional servings of everything you cook so they could be frozen and enjoyed later. This way, even if you've had a long day and don't have the time to prepare something healthy, you don't have to resort to a makeshift unhealthy meal or take-out," says Caleb Backe, Health and Wellness Expert for Maple Holistics. Avoiding fast food and take-out is essential for eating well and saving money.
Grow Your Own Food
Growing your own garden is the perfect way to spend less, eat well, and even enjoy the leisure of it every step of the way, says Backe. "This simple project isn't nearly as tough as it sounds and can be a great way to spend more time outdoors. In addition to quality-assurance, an herb or vegetable garden can help curb your spending and give you a whole new appreciation for these healthy foods," he says.
Cook from Scratch
As a general rule, it's almost always better to cook from scratch and avoid processed foods. "These shopping market staples are often loaded with sodium, unhealthy preservatives, and unnecessary additives. You're much better off finding new and fun ways of making your favorite foods and snacks at home," says Backe. Cooking doesn't have to be a chore, and it's actually pretty fun and relaxing after a long day!
Visit the Meat Counter
Ditch pre-packaged meats that are often overpriced and high in excess fats and sodium. "You may find a better deal than the pre-packaged options. In addition, the butcher is gives you better control of how much meat you actually buy so you don't waste money," says Catherine Metzgar, Ph.D, RD.
Buy in Bulk Section
"Go nuts for nuts! They store well, and a sprinkle on a salad or yogurt gives you the crunch of croutons or granola without the extra sugar. Slivered almonds and chopped walnuts are both great options that are more affordable," says Metzgar. Plus, you can also get dried fruit, legumes, and grains in the bulk section, as well.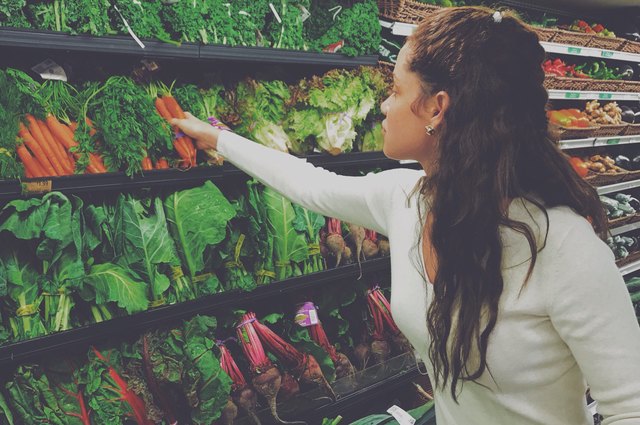 Buy in Season
Make the majority of your haul from the grocery store in-season, says Metzgar, especially non-starchy vegetables, which have the lowest carb count and provide important nutrients to keep your health in check. "In season, these foods are most likely to be on sale in the produce section," she says.
And, don't ignore frozen veggies! "These are picked at their peak so nutrient content is sometimes higher than fresh produce," she says. Bonus: you don't have to worry about frozen veggies spoiling in your fridge before you have a chance to use them.