This article was contributed by Whitney English, an LA-based Registered Dietitian Nutritionist and Certified Personal Trainer who practices the food philosophy "Predominately Plant-Based."
Meal prepping is all the rage – and not just because it makes for really great Instagram photos.
Planning meals in advance and making sure you have the necessary ingredients ready to go when hunger strikes is a great way to support your health goals. Even as someone who loves to cook, I can certainly attest that if I open the refrigerator after a long day and there is nothing that is easy to whip up in less than ten minutes, there's a 95% chance I'm Postmating dinner.
That's why I always set aside a couple of hours on Sunday to prep items from my key food groups that will ensure mealtime goes smoothly no matter how busy I get during the week.
While you may associate "meal prep" with massive batches of baked boneless skinless chicken breast, meal prepping is equally important for Predominantly Plant-Based Diets too. It's also incredibly easy. Here's how I break down.
I always aim to fill my plate with ½ vegetables, ¼ grains/starches, and ¼ protein-packed plants. So when I meal prep, I pick foods from each of these categories to prepare.
First, I'll prep the vegetables. I'll select 2-3 veggies that I'm grooving on this season, and I'll either simply wash and chop them (eg. spinach, kale, bell peppers) so they're ready for stir frying and salads, or I'll toss them with a little extra virgin olive oil and sea salt and roast them (eg. sweet potatoes, beets, brussels sprout) to use in Buddha bowls or as a side dish for dinner.
Next, I'll select one grain/starch and make a massive batch of it (at least five servings) that will last me throughout the week. This is usually quinoa, but sometimes I'll mix it up and do brown rice, whole grain pasta, wheat berries, hulled farro, etc.
Lastly, I'll prepare a protein option. Sometimes this is as simple as opening a few cans of beans, rinsing them, and putting them in a container. It just saves an extra step when you're tired or busy. P.S. – canned beans are just as healthy as homemade beans, just make sure you're buying them in BPA-free cans. Other protein-packed options I frequently prep in Whit's Kitch include baked tofu or tempeh, roasted chickpeas, or taco "meat."
If you're like me and you're good at winging it in the kitchen, your meal prep ends here.
Throughout the week you can mix and match these prepped items to make all kinds of meals depending on your mood. All you have to do is switch up spices, sauces and dressing to vary the flavor.
However, if you're an extremely organized, Type A person who likes to have everything planned to a T, you can immediately package these foods into five containers for lunches throughout the week, or get out your calendar and write down the dinners you'll use them in. Either way, you've got a good baseline for a week of healthy eats!
Lastly, I'll often select a new recipe to try on Sunday or Monday night that I know will make a lot of leftovers. This gives me one more healthy meal option for the week!
Want to give it a try? Here are a few recipes that make awesome leftovers: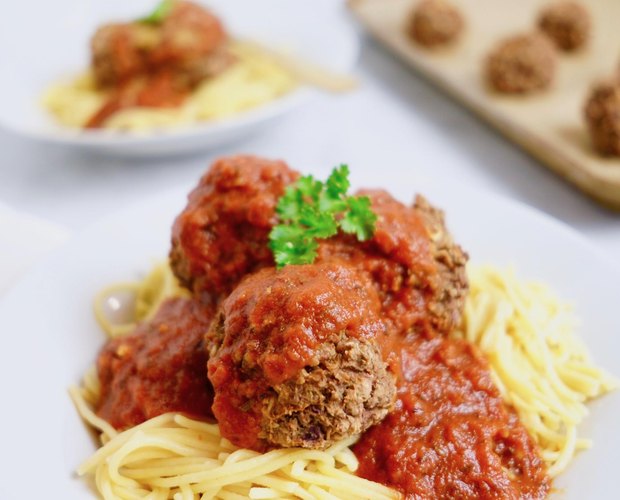 And if you're interested in transitioning to a Predominantly Plant-Based Diet, try out my FREE 7-Day Predominantly Plant-Based Meal. It's an easy way to test the waters of this simple way of eating.
In addition to giving you the basics of the PPB Diet, my plan also includes tips for mindful eating and hooks you up with a week-long meal plan with a grocery list and snack ideas. Plus – you actually get to go "off-plan" for three meals of the week to show you the flexibility this eating pattern offers.
PPB is in total contrast to the majority of diets and "detoxes" and that's mainly because – PPB isn't a diet! It's a loose structure to help guide conscious eating choices and support a long, healthy life.
I hope you found these meal prep tips helpful! If you try any of them, snap a pic and tag me @whitneyerd so I can see all of your delicious creations!