YogaGlo just launched their first "movement meets mindful eating" course package led by the one and only Kathryn Budig, appropriately titled Better Than Takeout. "Just like your go-to takeout order, this program is accessible, flavorful and totally satisfying," says YogaGlo. Complete with six 30 minute vinyasa yoga flows with names such as "Are You Going To Finish That?" and "Icing On The Cake", the program includes six nourishing recipe videos that are appropriate for beginners in the kitchen to advanced foodies. The set compliments each other leaving you feeling your best mentally and physically.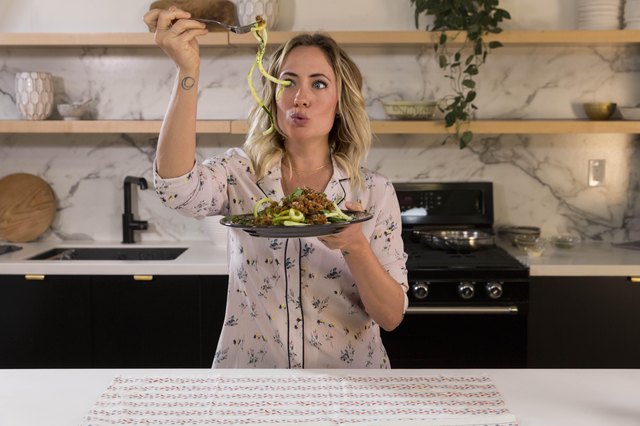 BUT, let's be honest — I know that rolling out your mat at home without the hard in-person class commitment can be tough, so I caught up with Kathryn to share tips on how to TRULY start your home practice:
How To Start Your At-Home Practice:
Turn all of your notifications off so that the only thing you can access on your computer (or phone!) is the class.

Carve out a space that you can use as your dedicated practice zone. This can be at your home, but if you don't have room, carve out a little portion of the stretch mat at your gym.
Hold yourself accountable! Schedule it like a doctor's appointment. Consistency is key.
Create a buddy system with your friends and do it together.
Meditate for five minutes beforehand, it clears your headspace. "I make better decisions in general if I meditate," says Kathryn.
After your practice, it's important to fuel up on carbs and protein. How you move and what you eat are completely aligned when it comes to total body health, which is what makes this program so helpful and nourishing. Kathryn is an incredibly passionate foodie that focuses on the philosophy of "food as medicine" with LOTS of flavor. Her recipes are health-minded and clean (think: easy homemade sauces that will have you wondering why you didn't do this for years before) and all in 20 minutes or less. ✔️
"Learning to cook is the smartest, healthiest thing you can do for yourself. When you see every ingredient, it holds you accountable," says Kathryn. The recipes in the Better Than Takeout program include: Spicy Kelp Noodle Salad, Cardamom Coconut Almond Butter Pancakes, Lentil Bolognese (Kathryn's fave), Cherry Chocolate Coconut Flour Muffins, Quinoa Egg Power Bites and The Unbeetable Burger. I also scored one of Kathryn's go-to dressings (outside of the course bundle!):
Simple Dressing That's Good On Everything
1 part extra virgin olive oil
1/2 part lemon juice
Spoonful nutritional yeast (loaded with vitamin B!)

Optional: veganese for creaminess
Salt & pepper to taste
Sign up for Better Than Takeout right this way — ENJOY!