If you're not one to have time in the morning to create a whole egg frittata and side of potatoes, you're probably not alone. It's hard to find time to create a hearty, balanced breakfast that requires much cooking or the need to sit down and eat it while it's hot.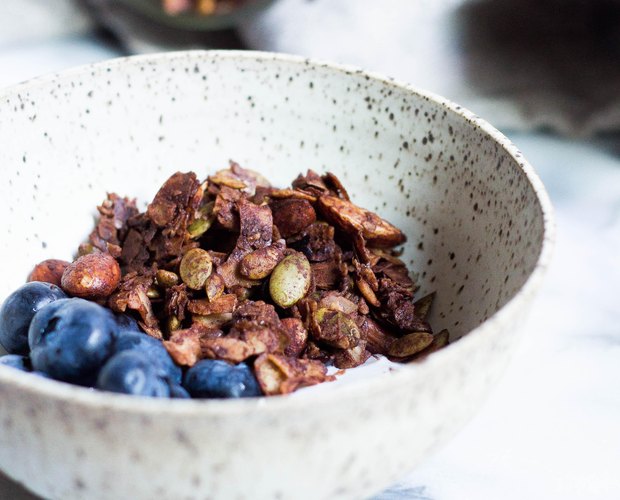 A solution? Whip up some breakfasts that are portable, so you can take them with you on your morning commute to work, without the hassle. And, be sure to include lots of nutrients that will energize your morning, with protein being a major one.
Why? Protein fuels your mind and body. Protein is made up of amino acids, and you need to make sure you're getting enough based on your size, weight, and activity level. You need between 0.8g to 1.0g/per kg of weight, says Dr. M Daniela Torchia, PhD, RD.
Protein is used for muscle and tissue repair, and it digests slowly, so you feel fuller longer, while still get immediate energy to wake up. Plus, as it digests at a slower pace, it's great for maintaining blood glucose and preventing sugar crashes, she says. It also helps reduce the occurrence of binging, as it keeps hunger at bay, she says. (Though, eat a bit every 3 hours, in general, beyond breakfast to help with the munchies.)
Egg Cups
"Egg has 6g of protein - don't fear a bit of cholesterol, your brain and hormone production require some cholesterol to function," she says. Plus the yolk also contains choline, which has been shown to improve cognitive thinking, and the protein found in whites will keep your mind sharp and body powered. If you don't have time to sit down to eat an omelet, make egg cups in a muffin tin or create a batch of hard boiled eggs to take on the go. (Ed's note: Watch this video where we're showing you how to make egg frittata cups!)
Cottage Cheese
"4 oz. cottage cheese has 13g protein rich in protein and calcium," she says, which is great for keeping you full and awake and strengthening bones. Plus, you can take cottage cheese with you as a portable breakfast. Keep it in its container or add to a mason jar and enjoy on your commute.
Almonds
"1 oz. almonds (about 20 pieces) has 6 grams of protein and is rich in monounsaturated fatty acids," she says. They also have fiber and some carbs, which will help keep you full between meals, she says. You can carry almonds with you in a bag or add to a portable container of cottage cheese or Greek yogurt. If this is for breakfast, make sure to pair with something more substantial, too, to get a well rounded meal.
Canned Salmon
"3 oz. salmon has 16g and includes omega 3's, which are good for heart health, brain function, and they help decrease oxidation of bad LDL cholesterol, which when oxidized, contributes to plaque formation, she says. You can take a can with you as you take the train or bus to work. Many brands offer ready-made canned fish that's packed in water or oil, along with some crackers. Don't like salmon? Try canned tuna instead.
Yogurt
"Yogurt is the best of both worlds, not only does a 1 cup serving of Greek yogurt provide nearly 15 grams of protein, it's also packed with probiotics, too! Those healthy, gut friendly bacteria that keep your immune system strong," says Elizabeth Shaw, MS, RDN, CLT. You can eat it on the go in the package it comes in, or you can create your own yogurt parfait and take it with you in a mason jar. You can even make yogurt covered fruit as a frozen breakfast on the go. Make sure to get unsweetened varieties to keep sugar low.
Turkey Sausage Patties
You can pop these bad boys in a sandwich or English muffin for a portable, high-protein breakfast. "Homemade turkey sausage patties are one of my favorite ways to get my protein in first thing in the morning! I like to wrap this in a whole grain English muffin for a portable breakfast sandwich on the go, with a little heart-healthy avocado mashed in there too," says Shaw. "Alone the sausage has about 12 grams of protein based on the serving size of 2 ounces, and paired with the sandwich combo, racks in well over 20 grams," she says.
Quinoa Cups
"Quinoa blended oat mixes are on fire these days, and for good reason! Not only is quinoa a high quality protein, when paired with the cholesterol lowering effects of oats, you're in for a real heart-healthy treat," says Shaw. "A 1 cup serving of cooked quinoa and oats blended totals at about 10 grams of protein," she says. Use a muffin tin to make portable cups that are perfectly portioned and easy to travel with.
You might also like: 3 Breakfast Salads You'll Actually Want To Eat In The A.M.