If you're going on the paleo or keto diet, or simply looking to slash some carbs and eat higher protein foods, you sure can. There are plenty of delicious, nutrient-dense foods that are rich in protein and low in carbs to provide staying power and muscle-building perks.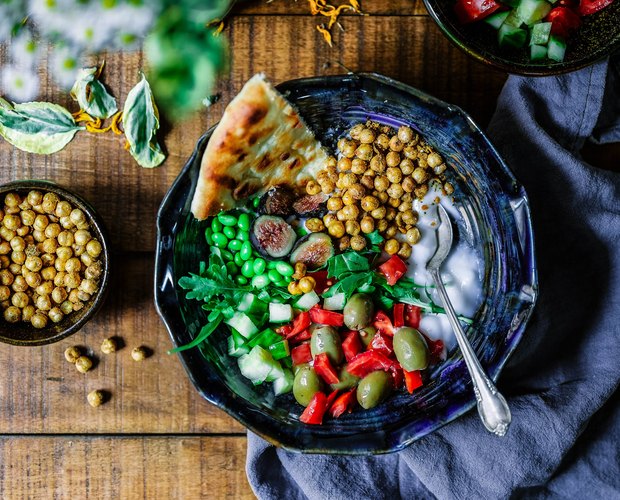 Of course, you might want to pair with carbs in moderation (for instance, eating a piece of fruit with a handful of nuts or a serving of cheese), in order to get a well rounded snack, but in general, these filling foods are great for a pick-me-up in the day. Also, be cautious of eating too much protein, which can happen.
Here are the top low carb, high-protein snacks to choose from, thanks to a few dietitians.
Pistachios
"Tired of hearing nuts are too calorie dense for a healthy mean plan? Me too! That's why I help my clients understand that heart healthy nuts like Wonderful Pistachios pack not only 6 grams of high quality plant-protein but also 3 grams of filling fiber (with only 8 grams of total carbohydrates) in 1/2 cup of in-shell nuts," says Elizabeth Shaw, MS, RDN, CLT.
"Not only are their purple and green hues great on the eyes, they're also a great way to get antioxidants in your diet. Antioxidants help rid your body of free radicals that can cause damage in your body. By adding pistachios into your diet, you can even still enjoy delicious chicken fingers or meatballs, breaded and baked with a pistachio crumb base," she says.
And, don't like pistachios? Try almonds, cashews, peanuts, or walnuts. All are great sources of protein and are low in carbs.
Bison
"Bison, or buffalo, is actually a very lean, high protein meat. So, please throw out the notion that red meat is the devil! In fact, red meat can be consumed as part of a balanced diet on occasion," says Shaw.
Bison happens to be a game meat that packs over 32 grams of protein in just 100 grams (or roughly a 3 ounce serving) with zero carbohydrates. "In comparison to red meat, bison packs more protein. Bison also provides 3.7 grams of iron and 376 mg of potassium, an important electrolyte in your body that needs to be replenished post-workout to make sure your body's balance stays in check," she says.
You can eat this as a jerky or a bison burger. You can also add to soups or chilis.
Lentils
Lentils, and other types of beans and legumes, such as black beans, edamame, chickpeas, and broad beans, are all lower in carbs and high in protein. They taste great roasted as a snack or in soups, chilis, protein bowls, and more, says Lauren Harris-Pincus, R.D.N and author of The Protein-Packed Breakfast Club.
Lentils are a great source of plant-based protein, with a half-cup serving boasting 115 calories, nine grams protein, 20 grams of carbs, and eight grams of fiber.
Yogurt
You can't go wrong with Greek or Icelandic yogurt, although you should avoid the sugary yogurts that you might see in grocery aisles (those aren't good for you!).
"An unsweetened plain cup of Icelandic-style strained yogurt provides a lot of protein for under 100 calories, as well as a good source of calcium (15% DV) for strong teeth and bones. It's incredibly versatile in the kitchen, and can be used in sandwich spreads, smoothies, breakfast parfaits, soups, baked goods, and more," says Maggie Moon, MS, RD and author of The MIND Diet.
Cheese (and "Fake" Cheese!)
Both the real deal and alternative cheeses, like plant-based ricotta made from almond milk, instead, both have lots of protein and few carbs. Plant-based cheeses add protein and healthy fats, the latter which you can't find in dairy, says Moon. If you want real ricotta, go all in: a half-cup serving of low-fat ricotta has 14 grams of protein and six grams of carbs.
Eggs
Moon recommends eating eggs, as they are high in protein and vitamin D to make your brain sharp and bones strong. Plus, they're low in carbs so they fit in well with your low carb, high-protein diet. Make an omelet, snack on hard boiled eggs, or add one as a topper to toast (like avocado toast, which also has tons of protein!).
You might also like: 7 Simple, Portable Foods That Are Super High In Protein