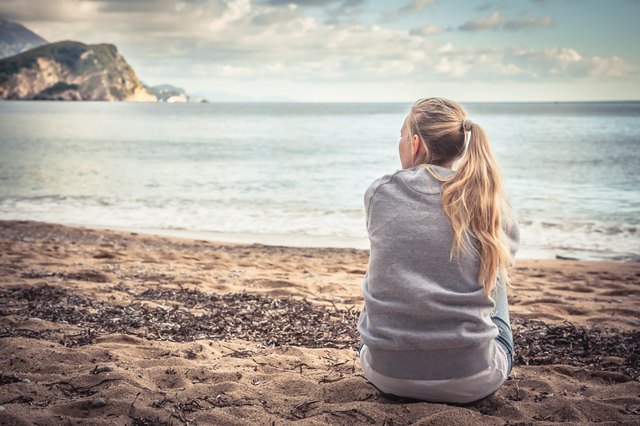 splendens/iStock/GettyImages
The United Kingdom already has a minister (aka government official) of digital and creative industries and a minister for disabled people. And now the country can add a minister of loneliness to the list.
On Wednesday, British Prime Minister Theresa May made the announcement, saying, "I want to confront this challenge for our society and for all of us to take action to address the loneliness endured by the elderly, by carers, by those who have lost loved ones — people who have no one to talk to or share their thoughts and experiences with."
As NPR reports, more than 9 million people in the U.K. (roughly 14 percent of the population) "always or often feel lonely," and "around 200,000 older people have not had a conversation with a friend or relative in more than a month."
Stats in the U.S. are just as staggering: Approximately 42 million Americans over age 45 — or 13 percent of the population — suffer from chronic loneliness, according to AARP's Loneliness Study. And a 2017 study from the American Psychological Association found that loneliness significantly increases the risk of early death, making it just as deadly as obesity, while greater social connections reduced that risk by about 50 percent.
Study author, Julianne Holt-Lunstad, Ph.D., warned that loneliness is a public health threat. "With an increasing aging population, the effect on public health is only anticipated to increase," she said. "Indeed, many nations around the world now suggest we are facing a 'loneliness epidemic.' The challenge we face now is what can be done about it."
Although there's a U.S. Senate Special Committee on Aging along with an Administration on Aging, both of which touch on the idea of combatting loneliness, the author of a 2016 article in the Washington Post pointed out that, "Many researchers believe the United States is not doing enough to address loneliness as a public health issue." The researchers suggested looking to the U.K.'s national Campaign to End Loneliness, set up in 2011, for inspiration.
In 2017, the British government also established the Jo Cox Commission on Loneliness, following the murder of British Member of Parliament (MP) Jo Cox. It was this Commission that put forth the idea of creating a minister of loneliness.
The newly appointed minister, Tracy Crouch, said in a statement: "I am privileged to be taking forward the remarkable work done by Jo Cox, the Foundation and the Commission. I am sure that with the support of volunteers, campaigners, businesses and my fellow MPs from all sides of the House, we can make significant progress in defeating loneliness."
Whether or not loneliness can truly be defeated remains to be seen, but the Brits are certainly taking a step in the right direction.
What Do YOU Think?
Should the United States be doing more to combat loneliness and social isolation? Do you think our government would ever create a secretary of loneliness? Let us know in the comments below!