Whip Up a Batch of Treats Almost as Fast as You Can Eat Them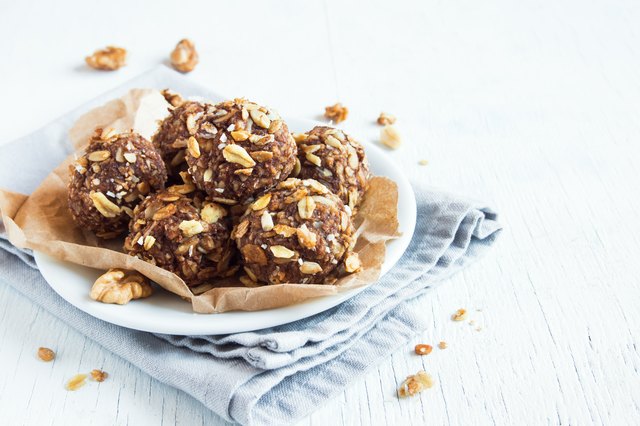 Mizina/iStock/GettyImages
The good part about making snacks and treats for the family is you never have to wonder about what ingredients you're really feeding the kids. The downside: Many snacks such as cookies take time to bake. The solution: These three no-bake cookie recipes that are so simple to make, the kids will definitely want to help.
1. Three-Minute No-Bake Cookies
These chocolate-and-oat cookies contain only five ingredients: sugar, butter, low-fat milk, baking cocoa and oats. Make these chocolatey morsels by adding everything but the oats to a large saucepan, heating on medium and stirring frequently until the mixture boils. Once it does, turn off the heat and move the pan to a cool burner. Stir in the oats until they're covered in chocolate. Scoop tablespoons full of the mixture out, setting each dollop onto wax paper to cool. Store the cooled cookies in an airtight container, if you manage to save any from vanishing right away.
2. Healthy No-Bake Unicorn Cookies
These colorful creations don't have unicorn horns, but they are full of rainbows (in sprinkle form). Unicorn cookies are super simple to make anytime the family's in the mood for a fun, flavorful treat. They're also gluten-free. Mix coconut flour, cashew butter and maple syrup in a large bowl until thoroughly blended. Stir in the rainbow sprinkles, then roll bits of dough into balls to make cookies. Place each dough ball on a wax-paper-covered cookie sheet, flatten the balls slightly with a fork, then set the cookie sheet in the fridge for 30 minutes. Enjoy!
3. No-Bake Pumpkin Cookies
These delicious treats taste like autumn, no matter what the season. Make a batch of no-bake pumpkin cookies by mixing honey, almond butter, coconut oil, pumpkin puree and assorted pumpkin-pie spices in a large, microwave-safe bowl. Microwave for 20 seconds to help blend the flavors, or skip the microwave if you prefer not to use it. Stir in shredded coconut, and then spoon the cookie dough onto a parchment-paper-covered cookie tray. Refrigerate the tray for 2 hours to allow the cookies to firm up before enjoying your new favorite spiced treat.
References
Writer Bio
Kathy Adams is an award-winning writer. She enjoys writing about new ways to decorate and come up with healthy meals and natural alternatives to household chemicals. She's written numerous articles for paint and decor companies, as well as grocery chains. Her writing appears on sites by Kroger, Black + Decker, Hunker, Landlordology, SFGate and USA Today Travel, among others.