A Throw-It-Together Peach Cobbler That Takes Minutes to Prepare
bhofack2/iStock/GettyImages
Peach cobbler doesn't always need hefty amounts of ingredients and preparation time. This simple recipe uses a cake mix instead of your own flour, sugar, baking soda and more, bringing the list of ingredients down to only five. While it's a decadent treat, it also provides the nutrients of peaches – or other types of fruit, if you decide to swap in blueberry or apple pie filling instead. The crumbly, mildly sweet cobbler makes a perfect contrast to the sweeter, richer crumbly topping. Add a dollop of whipped topping or ice cream to make an even more delectable dessert, and you're sure to have a room full of happy eaters.
Lining the pan with foil in advance helps prevent dryness as the cobbler bakes, and makes cleaning the pan a whole lot easier. Make a batch for a holiday dessert or an an anytime treat to savor after a long day of school or work.
Total Time: 55 minutes | Prep Time: 10 minutes | Serves: 10
2 (16-ounce) cans of peaches in heavy syrup

1 (18.25 ounce) box yellow cake mix

1/3 cup butter

3/4 teaspoon ground cinnamon

Whipped topping or ice cream for topping

Heat your oven to 375F.

Line a 9-by-13-inch pan or casserole dish with foil.

Place the canned peaches, with the syrup, on top of the foil.

Sprinkle all of the cake mix contents over the peaches, and then press it all down firmly.

Dice butter up into small pieces, and place them over the cake mix.

Sprinkle the cinnamon over the top.

Place the pan in your oven to bake for 45 minutes, or until it's cooked through, crumbly and lightly brown on top.

Serve the cobbler warm or at room temperature. Top it with whipped topping or ice cream, as desired.
Tip
For other fruit flavors use blueberry, cherry or apple pie filling in place of the peaches.

If you'd prefer a sweeter flavor, drizzle a bit of honey over the peaches before adding the butter.

If you'd rather have a softer, standard cake-like texture versus a crumbly dessert, stir eggs and oil into the cake mix, as called for by the package instructions, before pouring it over the peaches.

For added sweetness and spice on top, sprinkle 1/2 cup of brown sugar and a light dusting of cinnamon on top before placing it in the oven.

Check Out These Thanksgiving Dinner Recipes
Gallery
(24 photos)
View Full Gallery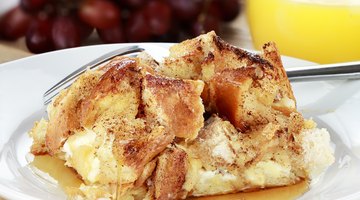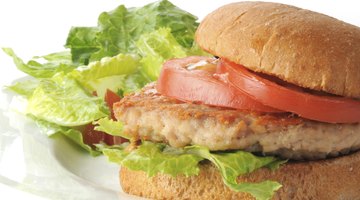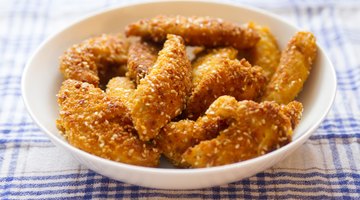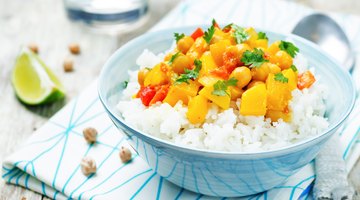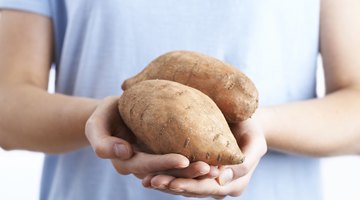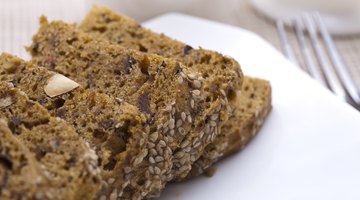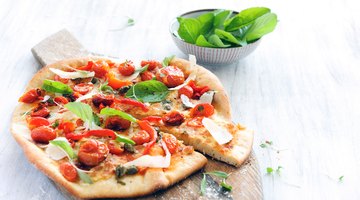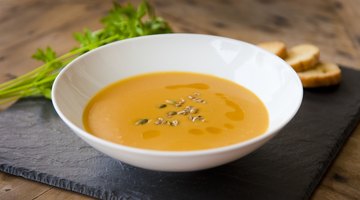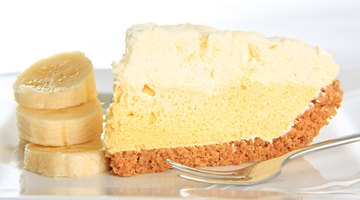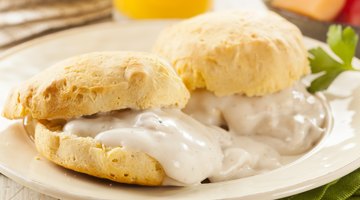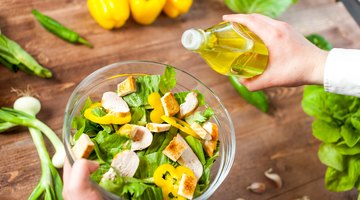 View Full Gallery
References
Writer Bio
August McLaughlin is a health and sexuality writer, podcast host and author of "Girl Boner: The Good Girl's Guide to Sexual Empowerment" (Amberjack Publishing, 2018). Her articles appear in DAME Magazine, Cosmopolitan.com, the Huffington Post and more, and she loves connecting with readers through her blog and social media. augustmclaughlin.com