A Creamy Way to Top Pasta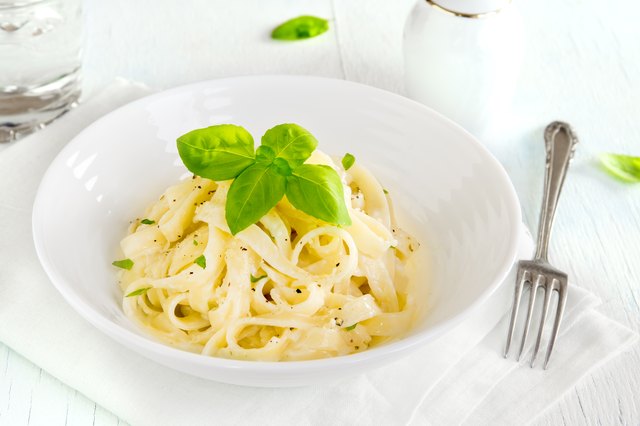 Mizina/iStock/GettyImages
Creamy, luscious Alfredo sauce tastes decadent, as if it takes hours to craft. In actuality, it's simple to blend together and a real family pleaser. Skip the bland, store-bought versions, and treat your family to a plate of pasta topped with homemade Alfredo sauce.
Serve it with steamed broccoli and sliced baked chicken to make a complete meal that's both elegant and comforting. Alfredo isn't a diet food, but it's sure worth the splurge.
Total Time: 10 minutes | Prep Time: 10 minutes | Serves: 4
Ingredients:
1/2 cup unsalted butter

1/2 cup heavy whipping cream

3/4 cup grated Parmesan cheese

Kosher salt and black pepper to taste
Directions:
In a medium pan, melt the butter over low to medium heat.

Once the butter has melted, incorporate the cream, stirring the mixture frequently.

Once the butter and cream mixture starts to bubble, allow it to cook for another 5 minutes. Keep stirring regularly to prevent it from scalding.

When the mixture thickens slightly, turn off the heat and stir in the Parmesan, salt and pepper. Serve over cooked pasta.

Tip
Start with a brick of Parmesan cheese and grate it yourself for the freshest flavor. It takes a little extra time, but it's worth it. Plus, grating cheese is a good job for the kids.
References
Writer Bio
Andrea Boldt is a nutritionist and personal trainer who writes for multiple publications. A graduate of Princeton and Columbia Universities and of the Culinary Institute of America, she enjoys spending time with her two kids and 18 pets.