Overview
Wearing makeup while working out can be tricky. The last thing you want when you're out running is for your makeup to be running too. Eyeliner, concealer and foundation can be a recipe for disaster during a hardcore, sweaty workout: Those greasy layers of foundation combined with sweat can be a breeding ground for pimples. If you want to hit the weight room without sacrificing that killer cat eye, here are some great ideas on picking products that will keep your face in place.
g-stockstudio/iStock/GettyImages
1. Protect Yourself.
This is nonnegotiable: You absolutely must protect your skin from the sun. Fortunately, the days when decent sun protection meant piling on layers of thick, gloppy sunblock that made you look and feel sweaty before you'd even hit the trails are long gone. These days there are so many lightweight sunscreens and beauty products with decent SPF coverage available — it just takes a little research to find the best one for you.
"I'm an avid outdoor runner, and I love to wear a tinted moisturizer like IT Cosmetics Your Skin But Better CC+ Cream (it boasts a high SPF of 50)," says Rouge18.com founder Amber Katz, who also points out that it's important to protect your lips too. "Sunscreen-spiked tinted lip balm like Fresh Sugar Rosé Tinted Lip Treatment Sunscreen is amazing. It comes in a tiny version I can slip into my leggings pocket to reapply on the go — literally."
IT Cosmetics Your Skin But Better CC+ Cream: $38.00
Fresh Sugar Rosé Tinted Lip Treatment Sunscreen SPF 15: $24.00
Ridofranz/iStock/GettyImages
2. Waterproof Your Lashes.
A seriously hardcore workout should make you look and feel happy, energized and motivated — not like you went to bed after a night out and woke up with mascara all over your face. If you hate the way your lashes look without a little curl and coverage, pick a waterproof mascara that will take you from the gym to the office without giving you panda eyes.
KOBOX trainer Maciela swears by Too Faced Better Than Sex Mascara. "It's great," says the fitness fanatic, who is used to working up a sweat at the boutique boxing studios where she teaches. "I wear the blue waterproof one for the gym and the nonwaterproof one when I'm not [sweating]." Let's face it: With a name like Better Than Sex, it's got to be worth a try!
Too Faced Better Than Sex Waterproof Mascara: $23.00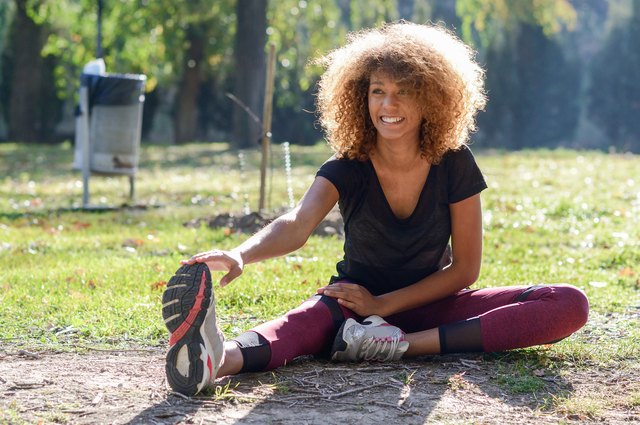 javi_indy/iStock/GettyImages
3. Ditch the Foundation.
You really shouldn't be wearing thick foundation while working out. Your skin will ultimately pay the price. Wearing foundation and concealer while exercising can cause blackheads and congestion, so while you might look good in the short term, it will wreak havoc on your skin over time.
Skin Facialist Andy Millward tells LIVESTRONG.COM it's best to go barefaced, but admits: "If you absolutely need to have some skin coverage in the gym, then skip the foundations and instead opt for either a lightweight tinted moisturizer or a light dusting of mineral powder. Just remember to cleanse the skin as soon as you're finished to ensure sweat and bacteria doesn't sit on the skin."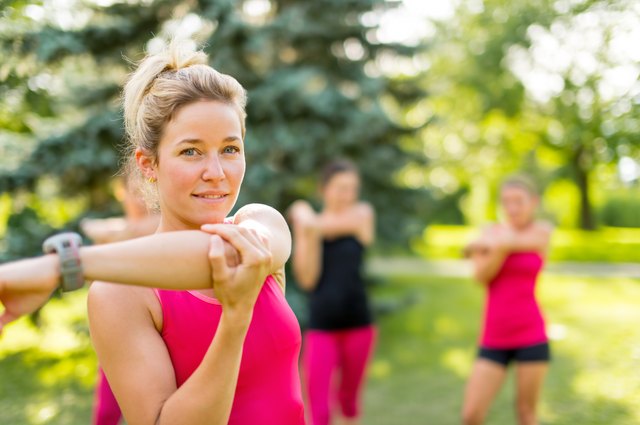 julief514/iStock/GettyImages
4. Tint Your Eyebrows and Lashes.
Tinting your eyebrows and lashes not only saves time and effort on a daily basis, but it also ensures the only thing running at the gym is you! Plenty of salons are now offering these completely painless service, which generally costs between $20 and $40. The tints on both the eyebrows and eyelashes typically last between three and four weeks, meaning you don't have to think about penciling in your brows or putting on mascara.
"My job means I exercise every day, and the last thing I need to be doing is reapplying my brows and mascara in between every client, class or workout," says Melissa Lorch, the sports scientist and personal trainer behind Fit4Mum. "Good brows can also distract from the fact you aren't wearing any other makeup."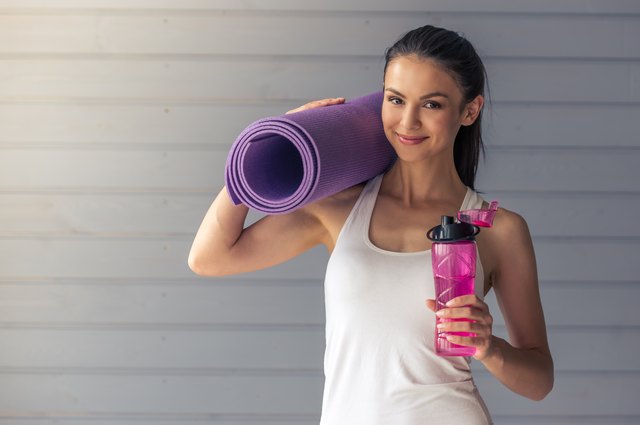 GeorgeRudy/iStock/GettyImages
5. Invest in Eyeliner That Won't Run.
A smoky eye is probably best left for a night out on the town, but that doesn't mean you have to ditch eyeliner for the gym entirely. The key is finding a good waterproof one.
Cosmetics company Thrive was so sure its liner could withstand a seriously sweaty Spin class, it launched its waterproof products — including Infinity Waterproof Liner — at the indoor cycling class FlyWheel just to showcase just how good it was. Not only does the company ensure "24-hour hold," but its makeup is also vegan and paraben-, sulfate- and toxin-free!
Infinity Waterproof Eyeliner: $22.00
Bojan89/iStock/GettyImages
6. Stain Your Lips.
Flushed cheeks generally come hand in hand with a good workout, so how about using some cheek tint for your lips instead? Benefit's Benetint can be brushed onto your pout, and it won't fade or smear.
No amount of sweating will shift the tint, and unlike plastering on your favorite cherry-red lipstick, the effects are subtle and totally appropriate for the gym. Once your post-workout glow begins to fade, you can apply it to your cheeks — and for the rest of the day you'll look just rosy too.
Benefit Benetint Cheek and Lip Stain: $30.00
jacoblund/iStock/GettyImages
7. Fake It.
Even those women who claim they are brave enough to go completely barefaced to the gym have a beauty secret or two up their sleeves. The Follower of Fitness blogger Sarah Wagland admits her workouts leave her far too sweaty to even consider wearing any form of makeup. But what do you do if you can't stand stepping out without mascara? Cheat, of course!
"I have individual eyelashes professionally applied every month, so there's no reason to wear it," she admits. Hey, if you can't make it, fake it!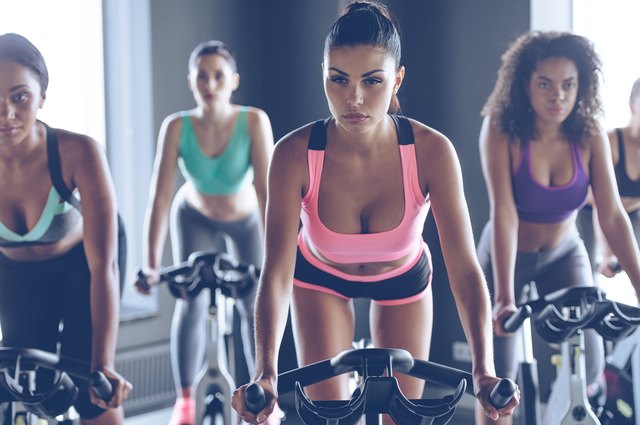 g-stockstudio/iStock/GettyImages
What Do YOU Think?
Would you rather not go to the gym at all than go barefaced? Do you have a makeup horror story of your own? Do you think women who wear makeup when exercising are vain? Let us know in the comments section below!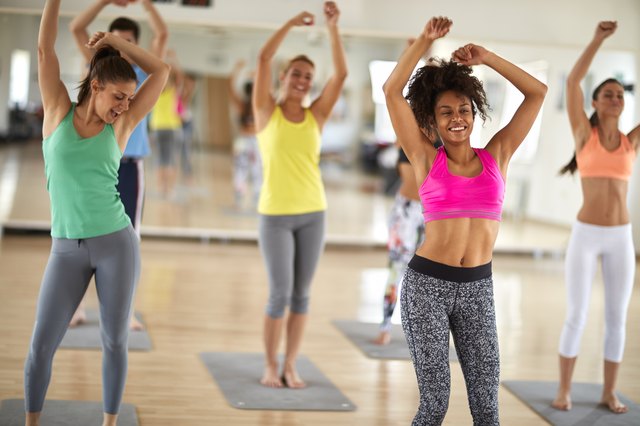 LuckyBusiness/iStock/GettyImages