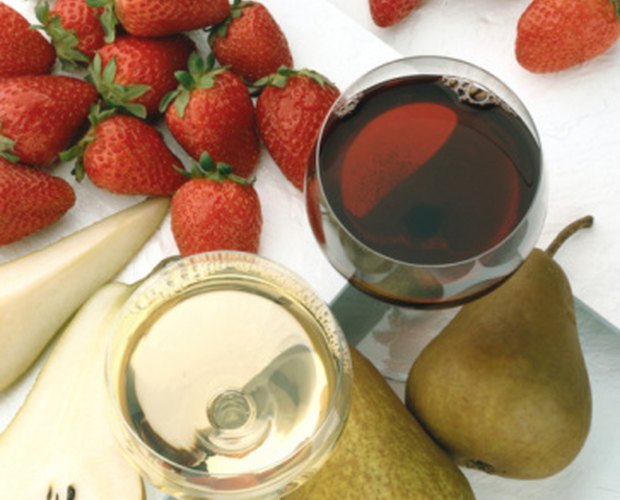 Ablestock.com/AbleStock.com/Getty Images
When selecting wines to pair with various foods, consider keeping the flavors simple and complementary. There should be unity and equality between the wine and the paired foods. Match sweets with sweet wines. With strawberry cheesecake, you have two options on finding a suitable matching wine. The first option is to pair the wine with the sweetness of the cheesecake. The other choice is to choose a wine that will match the sweet taste of the strawberries.
Sweet Whites
Sweet, white wines, such as a sauterne, muscatel or Riesling, work well with fruit-covered cheesecake. These wines have a scent or the flavor of fruits and honey that works well with strawberry cheesecake. Muscatel has a musky scent of melons, apples, pears and roses. Sauterne has a flavor of apricots, honey and peaches. A Riesling has a fruity scent of apple, peach, gooseberry, honey and rose.
Sparkling Whites
Sweet champagne and asti spumante are sparkling whites that work with the sweetness of cheesecake and strawberries. Asti Spumante is the Italian equivalent of champagne and has a sweeter honey taste which pairs well with fruit and cheese. Sweet champagne is harder to find, since drier champagne is preferred by the drinking public. However, when found, sweet champagne is excellent with fruits and desserts.
Sweet Rose
A sweet rose or sparkling rose works better with the sweetness of strawberries and other fruits than it does with cheeses or cheese desserts. Most of these wines have the aroma and taste of strawberries and roses. The rose is a light wine making it perfect for summer drinking. A chilled rose or sparkling rose will enhance any fruity,summertime dessert.
Sweet Red
A port wine after dinner with fruit and cheese is a classic option. A dark, ruby red port is a strong and intensely sweet wine. It will have a fruit and spice scent and taste, such as cinnamon and currants. A lighter port will have a light raisin and chocolate aroma and taste.