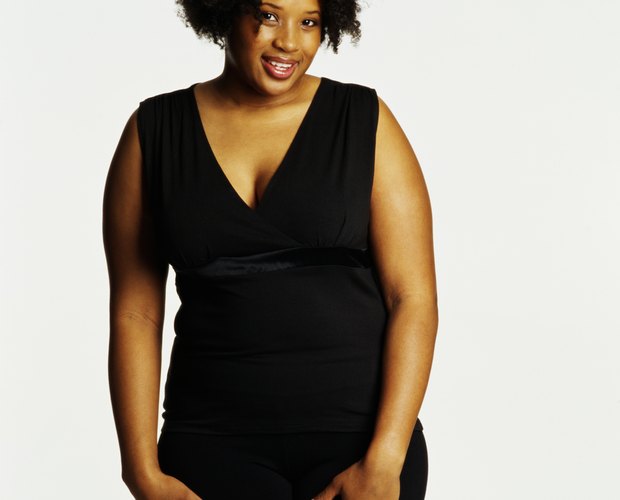 Digital Vision/Digital Vision/Getty Images
Tummy problems are commonplace among all shapes and sizes. Unfortunately, many plus-size women make the mistake of making their stomachs look bigger by tucking in their shirts or wearing tops that look like ponchos. There are numerous types of shirts available to camouflage a big stomach -- the key is to find the right styles and select the right size for your frame.
Tunics
Tunics have taken a stronghold on modern designs. Not only are they considered fashionable, but tunics are also an effective method of camouflaging belly fat. Flowing tunics made out of lightweight fabrics, such as cotton, work best because they don't add extra weight. Avoid tunics that cut off at the rear or versions that are too big. These styles ultimately make your stomach look bigger.
Empire Waist Tops
Plus-size women can benefit from the elongating effects of empire waist tops. These types of shirts emphasize your bust line, which makes your waist look longer. Many empire waist shirts have v-neck lines, which can act as another trick to draw attention away from your stomach.
Wrap Shirts
Wrap shirts can be blessings for women with big stomachs. The wrap design emphasizes your waistline but also draws attention away from belly fat. A way to mimic the effects of wrap shirts is to add a wide belt to your waist. To pull off the look, find the smallest area around your mid-section to create an hourglass effect.
Blocks and Prints
Blocks and prints were once considered off-limits for plus sizes. The problem doesn't lie in the concept of these shirts, but rather the exact designs chosen. Block shirts in two-toned colors draw attention away from your stomach, though, especially when the darker shade is on the bottom. When choosing print tops, choose patterns that are proportionate with your frame. Petite women should focus on small prints, while bigger designs are more flattering on taller plus sizes.
Shaping Camisoles
Layering is a stylish way to add more color and contrast to your outfits. However, you may find it difficult to pull off this look comfortably. Instead of choosing the typical camisoles, try shaping versions instead. Shapers double as undergarments and clothing. In fact, some versions offer enough coverage and details that they can be worn alone. Make sure your camisole fits snugly against your curves without being too constricting. This will help to smooth out your waistline without adding bulk or discomfort.