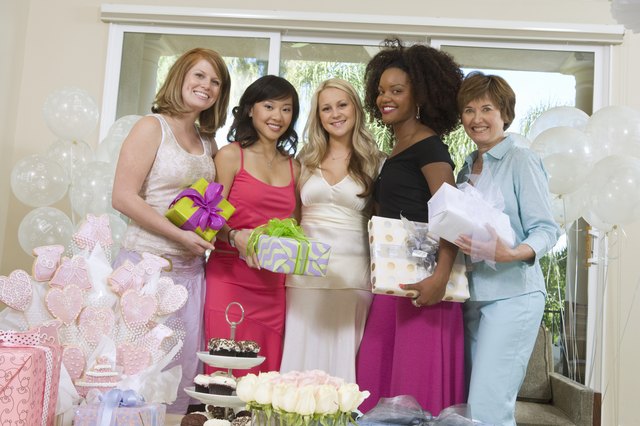 moodboard/moodboard/Getty Images
To be the best-dressed guest at a bridal shower, your attire should be appropriate for the time of day, theme and venue, and most of all, respectful of the occasion. A wedding shower is typically a festive party where attendees wear everything from dressy-casual pastel-colored dresses to airy blouses and slim-fitting pants. Whether you are attending a conventional country club shower or a backyard barbecue, allow the bride to take center stage by not wearing solid white or off-white to the party.
Dress to Impress
A sheath or shift dress in lace is a conservative classic appropriate for bridal shower luncheons and afternoon teas in the spring. A wool crepe, linen or light-cotton A-line dress is another feminine frock that flatters every figure and is suitable for dressy casual parties. To add your own style to this conventionally feminine dress, add a beaded necklace, a cocktail ring and slim pumps to your outfit. If you wear a short dress, make sure that it is not a micro-mini, but falls slightly above the knee.
Chic Daytime Separates
Dressing up for a daytime party doesn't mean that you have to wear a frilly dress. For a casual backyard summer brunch, pair slim-fitting dress pants with a frilly blouse featuring a detailed collar and strappy wedges. Add polish to your look with standout accessories -- such as a charm bracelet or dangling earrings. Layer a bright jacket over your separates to makes your ensemble party-ready.
Pretty Patterns, Prints and Florals
While a solid is undoubtedly chic, upgrade your party attire with a pretty print. Slip into an animal- or floral-printed skirt and white blouse for a bridal shower held in a swanky restaurant. Add visual interest to your elegant ensemble with a structured leather clutch and a statement piece of jewelry. In lieu of a coat, layer a fringed pashmina scarf over your white top and skirt to add polish to your festive party look.
Dressing Dos and Don'ts
A daytime bridal shower is a celebratory event, so wear pretty colors, such as pink, coral, powder blue and purple and skip the solid-colored navy, red and black attire. For an evening bridal shower, steer clear of any body-con or strapless dresses and any clothing that exposes your navel -- or too much cleavage. Above all, don't go too casual; denim and regular weekend wear are inappropriate for this type of party.