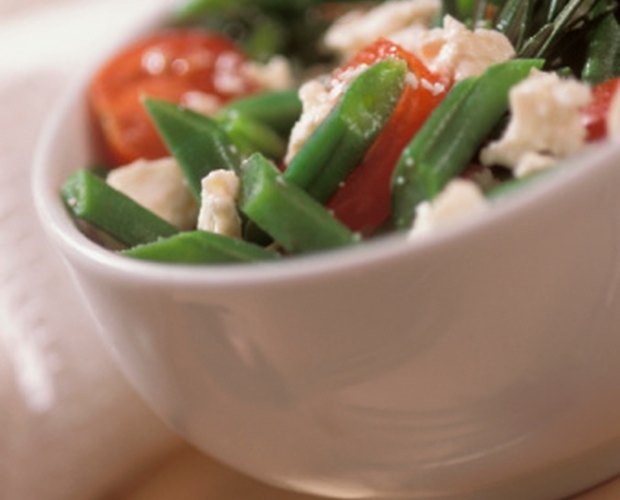 Medioimages/Photodisc/Valueline/Getty Images
Combining the right spices with feta cheese can make the difference between flavors that enhance your cuisine and those that fail to excite your palate. Feta is a Greek curd-cheese produced from sheep's milk. It is cured in a brine solution and offers a salty, tangy flavor and crumbly texture. You can make a number of entrees and appetizers, from breakfast to dinner, with feta and simple spices.
Fennel/Feta Frittata
Salt, pepper and fennel are spices that complement feta cheese. Create a frittata with Greek ingredients and Italian seasonings for breakfast or brunch by combining feta with such spices. Saute vegetables such as onions, tomatoes and spinach in a skillet, if desired. Add and cook down marjoram and fennel for flavor. Whisk eggs in a bowl, stirring salt and pepper in. Add the mixture to a skillet lined with melted butter. Ladle the vegetable and spice mixture onto the eggs. Add the feta on top of the vegetables and bake the frittata for about 10 minutes at 350 degrees.
Mezze Spread
Turmeric, paprika, cumin and chili flakes go with feta. Make a tapas dish for an appetizer or light bite, mixing the spices with crumbled feta cheese. Cook the spices down in olive oil with onions for about 30 minutes on low heat. Toss the crumbled feta cheese in the mixture for five minutes until coated with spices. Top precooked pizza dough with the mixture and warm it up in the oven for about five minutes or serve the feta, onion and spices as a spread with bread or crackers.
Greek Roasted Potatoes
Add feta, spices and herbs to roasted potatoes for an authentic Greek side dish that pairs with chicken, lamb or steak. Preheat your oven to 450 degrees and coat a baking dish with olive oil. Cut the potatoes into 1/4-inch slices and add them to a mixing bowl with garlic, water, lemon juice and spices such as salt, pepper and red pepper flakes, for added heat. Pour the mixture into the baking dish, creating one layer for even cooking. Roast the potatoes in the oven for about 40 minutes. Season and toss the potatoes in oregano and mint. Roast the potatoes for 40 minutes and remove them from the oven. Sprinkle feta cheese crumbles over the top.
Shrimp or Chicken Casserole
Cinnamon, all spice and chili flakes combine with feta and chicken or shrimp. Indulge in a baked casserole that packs in the flavor punch. Heat oil in a saute pan and cook onion slices for about four minutes. Add the spices and sauté them for 30 seconds, tossing the onions in the spices. Cook down undrained tomatoes in the skillet for about 15 minutes, tossing them with the onions and spices. Add minced garlic, parsley and oregano. Stir in deveined and peeled shrimp or sliced chicken and pour the mixture into a casserole dish. Top the mixture with feta cheese crumbles and bake it for about 20 minutes.