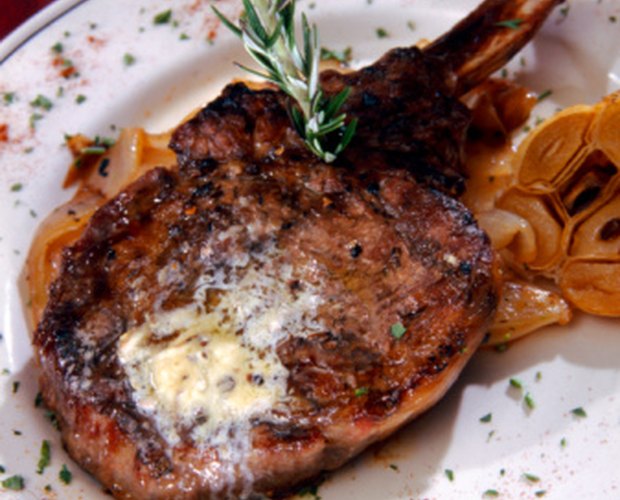 Jupiterimages/liquidlibrary/Getty Images
For steak lovers, there's nothing like a hot, sizzling, juicy rib steak placed in front of you. Marbled well with fat, the thick cut of meat is cut from a whole rib roast, with the bone still in it. If you are planning a rib steak dinner for the family or for a dinner party, select side dishes that complement the rib steak, while still making it the star of the show.
Potatoes
Steak served with potatoes is something you always see offered in steakhouses. Two ways to serve potatoes as a side dish for steak are garlic mashed potatoes, which are mashed and seasoned with garlic, and roasted potatoes, which are small potatoes that are roasted in an oven. A baked potato, which is a whole potato baked in the oven, is another ideal side dish for steak. For a fancier dish, Pommes Anna, a French potato dish, is made of thinly sliced potatoes that are baked with butter in a layered formation.
Greens
Next to the mashed potatoes, a bright green vegetable is served with rib steaks at most restaurants. Greens beans sauteed in butter is a one option, as is sauteed spinach. Sauteed asparagus tips give off a fancier presentation, provided you saute them until they are cooked through, but still crispy. Besides cooked greens, a romaine lettuce salad with blue cheese crumbles will complement rib steaks well, especially rib steaks with a pat of blue cheese butter on top.
Other Vegetables
Green vegetables are not the only vegetables that go well with rib steak. Eggplant makes a tasty and elegant side dish, sauteed and glazed with a spicy hoisin sauce. Hoisin sauce, used in Asian cooking, adds a spicy and sweet flavor to the eggplant. A medley of summer squash such as yellow squash and zucchini sauteed in olive oil is another side dish option that adds color to the plate. Mixed vegetables such as steamed carrots, cauliflower and broccoli sprinkled with Parmesan cheese livens up the flavor. Grilled tomatoes, as well as red and green bell peppers brushed with olive oil, go well with steak also cooked on the grill.
Pasta
Steak and pasta go hand-in-hand at many Italian restaurants. A light pasta is a good idea for rib steaks as the steaks are already filling and heavy on the stomach. A simple spaghetti with tomato sauce or angel hair pasta with a white wine sauce or sauteed in garlic and olive oil can also be served. Other pasta dishes to serve with rib steak include tortellini in a cream sauce and cheese ravioli smothered in tomato sauce.