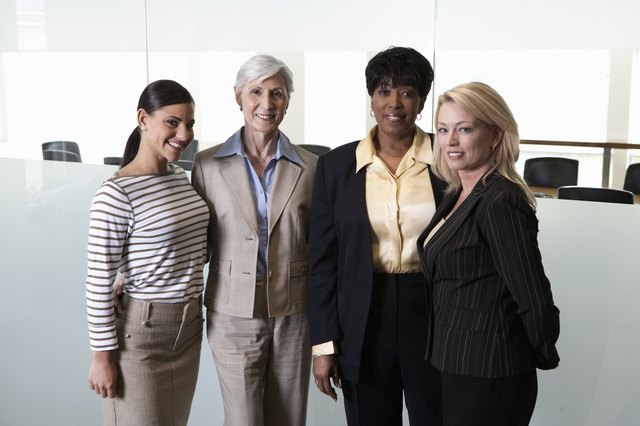 Thomas Northcut/Digital Vision/Getty Images
Dressing for a business formal event can be tough. The invite says business, which means an air of professionalism is required for your outfit. But it's an outside-the-office event, which means you don't want to come off as boring. To capture the perfect blend of polished and personable in your ensemble, build around a whimsical midi skirt or sharp trouser.
The Midi Skirt
Midi skirts are both charming and put-together as well as great for all body types, which makes them perfect for any business formal event. If you're going to wear a midi skirt to work, it's best to stick to neutral colors, like black or gray. But for an evening event, it's ok to step out of the boxiness of business attire and be a bit more flirty in garb. Opt for a brighter color -- blue, green, even hot pink -- and/or an interesting texture, like leather, pleats, or wool.
The Top
For a top to complement the skirt, go with something that's dressy but also casual, such as a printed button-down or patterned turtleneck sweater. For the button-down, go with subtle but still quirky prints like florals or polka-dots. With the sweater, you can choose to go with a light cream turtleneck -- which would look great with any vibrant colored midi skirt -- or don an abstract pattern, such as one with asymmetrical lines and shapes. Turtlenecks are extremely popular amongst the fashion folk right now, so you'll look very in vogue.
The Kitten Heels
To balance out all the excitement going on in the upper half of your ensemble, slip into a pair of black kitten heels. These heels are elegant, but in a quiet and poised way, which make them ideal for an evening event with a business formal dress code. For an extra dash of sharpness, opt for a pair of kitten heels with a pointy toe. A pair of black pointy-toed kitten heels say serious and sexy.
The Trouser
Women wearing suits to evening events became a huge trend this year. Female celebrities showed up to Red Carpet affairs in monochromatic power suits and a handful of fashion editors sported colorfully patterned two-pieces at the recent Fashion Weeks. The androgynous nature of the look makes it both jocular and authoritative, so construct a suit out of trousers to rep one of the season's hottest fashion fads. For a suit-appropriate trouser, select one with a slim leg and straight lines. For a more solemn event, go with a solid black trouser. If the occasion allows for more personality, choose a bold-hued pant or even a paisley patterned one.
The Blazer
To turn the trouser into a true power suit, a well-cut blazer is imperative. For a monochromatic look, team your black trousers with a black blazer and a crisp white button-down. To add some spice into the look, rock a bold red lip and pull your hair back into a tight bun to keep the focus on the outfit. For an ensemble with a bit more personality, take a page from the fashion editor's book and match royal blue trousers with a royal blue blazer. Or, go with a plaid trouser-blazer combo. To balance out the eccentricity in outerwear, choose a plain white button-down or v-neck T-shirt to sport underneath.
The Strappy Stilettos
To add some femme to the androgynous suit, opt for a pair of sexy strappy stiletto heels. If the theme of your suit is black and white, go with black stilettos. For a brightly-hued suit, color block by teaming a royal blue suit with green or yellow heels. If you're donning a flamboyant patterned suit, tone down the look with a subtle pair of cream stilettos. And if choosing the right colored heel is causing you anxiety, black stilettos match with everything so go with those.
The Bag
As for bag options, carry a sleek and simple black clutch as your purse of choice for the evening. You won't need to bring much to these kind of events -- probably just your phone, wallet, and some lipstick if you want to rock a red lip -- so it's unnecessary to lug around a bulky bag. You can carry this lightweight clutch around in one hand. It's classy and fuss-free, which will allow you to focus all your attention on the important event at hand.