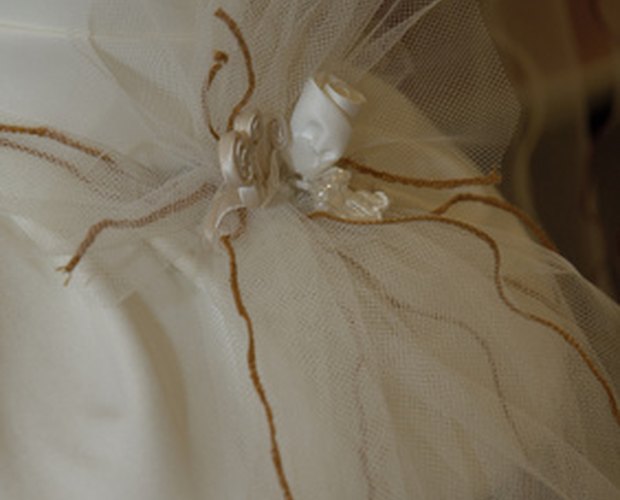 Tulle is a fine mesh net fabric that is best known as the material used to make wedding veils. Tulle is also used to embellish wedding gowns, evening gowns, costumes, hats, lingerie, window treatments, floral arrangements, gifts and wedding favors. This versatile fabric has been around for more than three centuries. It first became associated with weddings when Queen Victoria used it to create her bridal gown in 1840.
History
Tulle was named for the city of Tulle, France where it was first made. According to Italian Tulle, the French began knitting a hexagonal mesh fabric around 1700. In 1840, Queen Victoria's wedding gown featured tulle for the first time, forever linking the fabric to bridal fashion. Nineteenth century fashion designer Frederic Worth introduced the veiled hat. Tulle enjoyed a resurgence in the 1950s in formal gowns for teens going to the prom, brides and bridesmaids.
Bobbinet
Most tulle manufactured today is bobbinet, a form of tulle invented by John Heathcoat in England in 1807. After studying the hand movements of lace makers, Heathcoat invented a machine to mimic the process. According to Suissetulle.co.uk, bobbinet is constructed by looping the weft yarn diagonally around the warp yarn, creating a strong hexagonal weave that is durable and flexible.
Types
According to experts at Decorating with Tulle, tulle can be made of silk, nylon, rayon or cotton. Tulle comes in every color of the rainbow to suit any craft, fashion or decorating project. It is available by the yard on a bolt or pre-cut in squares or circles for craft projects.
Uses
While tulle is most often used to create wedding veils, it can also be used to create pew bows, ballerina tutus, crinolines and wedding favors. Tulle can also accent corsages or provide decorative filler for gift baskets. Gardeners use tulle to protect plants from insects or to shield berries from rodents and birds. Interior designers incorporate tulle into window treatments or bed curtains to create a soft, feminine look.
Cleaning
Antique wedding veils should not be cleaned without advice from a professional textile conservator. Modern tulle can be machine washed, but Decorating with Tulle suggests clipping a small sample and testing your cleaning method first to be sure you will not damage the piece. Heat from a clothes dryer may damage tulle so allow it to air dry instead. Tulle should never be dry cleaned because the chemicals used in the process may deteriorate the fabric over time. To remove wrinkles, spritz tulle with water and gently fluff it or use a steamer filled with distilled water. Do not use an iron. Intense heat can burn or melt tulle.